Littleton CO Area - 2017 KIA Sedona EX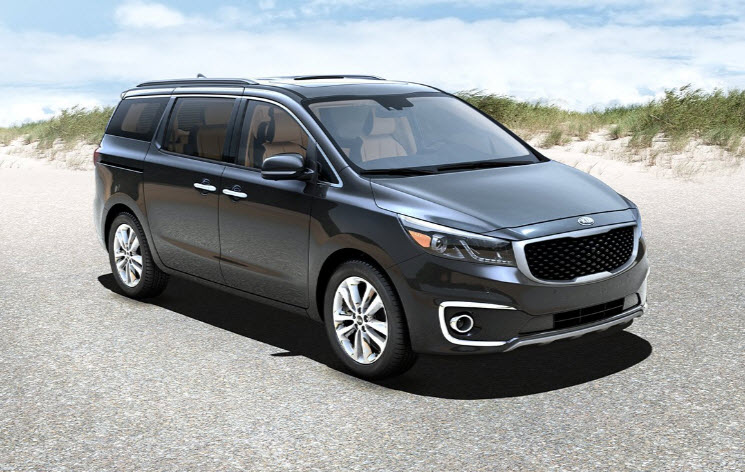 Overview
The 2017 KIA Sedona EX is a premium minivan that is spacious enough for eight occupants. Powered by a V6 engine with GDI technology, the Sedona EX delivers excellent performance. This Kia model also has plenty of convenient amenities like the smart lift gate and tri-zone automatic climate control system.
Interior
The 2017 Sedona EX is a spacious minivan that has three rows of seats for up to eight occupants. All of the comfortable seats are covered in genuine leather upholstery. The eight-way driver's seat comes with an optional four-way lumbar cushion. This ergonomic seat can also be controlled with a memory function. The second row includes the signature Slide-N-Stow seats that can be easily adjusted with the pull of a lever. The third row has 50/50 split-folding seats that can also be conveniently collapsed to make more space for cargo. A Kia dealer serving Littleton CO provides Sedona EX information on other premium interior amenities such as the tri-zone automatic climate control system. Featuring 12 total cup holders, this minivan surely allows all of the occupants to conveniently bring along some drinks. 2017 Sedona EX quotes to Littleton Colorado also include data on the vehicle's digital technology such as the 7-inch infotainment system that is powered by UVO eServices. Apple CarPlay and Android Auto are some of the smartphone-friendly features in the multimedia console. Additionally, Bluetooth technology offers convenient hands-free connection options for mobile devices. This premium minivan includes multiple 12-v power outlets and 110-v power inverters for convenient charging of portable electronics.
Exterior
The Sedona EX is available in eye-catching colors such as Venetian Red, Titanium Bronze, Midnight Sapphire and Midnight Black. A rear spoiler gives this full-size minivan a sporty and sleek appearance. 2017 Sedona EX quotes to Littleton Colorado include information on the vehicle's convenient exterior features such as the smart power lift gate. This innovative lift gate is designed to automatically open to a preset height whenever the Smart Key is within close proximity. Of course, the power sliding side doors allow the rear passengers to quickly enter the vehicle. During the summer season, the vehicle's occupants will surely appreciate the privacy glass and solar control glass. The heated rear glass with a timer also comes in handy for winter driving. Additionally, this minivan includes a rear wiper with a washer function that is very useful for trips during inclement weather.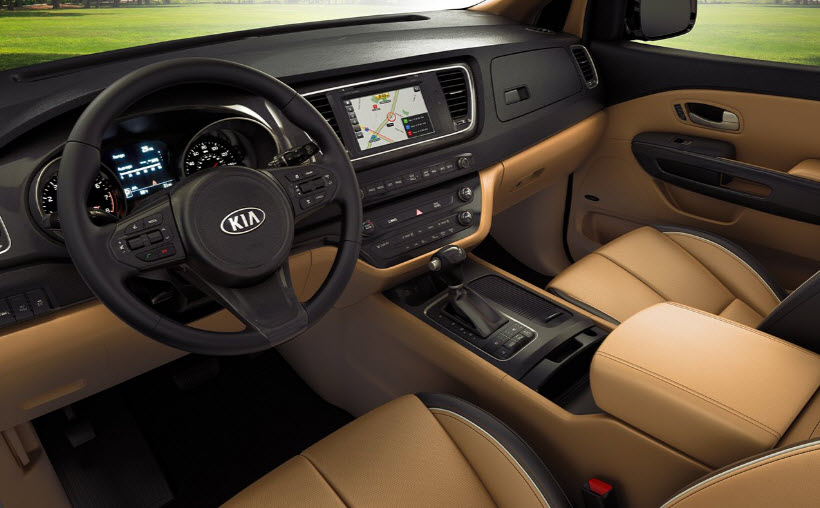 Mechanical
The 2017 KIA Sedona EX includes a hydraulic power steering system that gives the driver plenty of leverage especially in challenging driving conditions. After all, this minivan has a curb weight of more than 4,500 pounds. With a turning circle of 37.7 feet, the Sedona EX is quite agile for its size. 2017 Sedona EX quotes to Littleton Colorado also cover the details of the steel unibody construction that is very durable but not too bulky. This full-size minivan is supported by a front suspension system with MacPherson struts and gas shock absorbers. The vehicle's rear suspension comes with an independent multi-link design with struts and coil springs. Additionally, heavy-duty stabilizer bars deliver extra support to the front of the chassis. Thanks to the Amplitude Selected Dampers, this minivan offers a truly quiet ride without too many vibrations from the road. The Sedona EX is equipped with 12.6-inch front disc brakes and 11.9-inch rear disc brakes. The traditional Anti-Locking Braking System enhances the performance of the brakes in inclement weather. 
Powertrain
Under the hood of the 2017 KIA Sedona EX is a 3.3 L V6 engine that generates up to 276 horsepower at 6,000 RPM. Powered by Gasoline Direct Injection (GDI) technology, this six-cylinder engine also produces a maximum of 248 pound-feet of torque when the tachometer reaches 5,200 RPM. All of the 24 valves in this engine block have DOHC components that smoothly open and close. Dual Continously Variable Valve Timing improves the efficiency of this powerful engine. A Littleton CO Area 2017 KIA Sedona EX comes with a standard six-speed automatic transmission system that includes an overdrive mechanism. Additionally, this transmission has the Sportmatic technology that significantly improves shifting in gears. A Kia dealer serving Littleton CO provides Sedona EX information on the traditional Front-Wheel Drive (FWD) that's typically installed in minivans. This versatile model is also powerful enough to tow up to 3,500 pounds for camping trips and other recreational journeys. Thanks to the Active Eco System, the vehicle's powertrain won't waste precious fuel on extended drives.
Safety
The 2017 KIA Sedona EX is available with the Forward Collision Warning System, which uses radar to scan traffic movement ahead on the road. The Autonomous Emergency Braking can stop this minivan just in time to prevent a front collision. A Littleton CO Area 2017 KIA Sedona EX can also be equipped with the Smart Cruise Control, which is programmed to reduce the risk of front crashes at fast speeds. A Kia dealer serving Littleton CO provides Sedona EX information on other active safety features like the Blind Spot Detection System and Lane Departure Warning System. Both of these amenities will help the driver find the right time to safely merge into an adjacent lane on the highway. The Sedona EX also offers the Rear Parking Assist System, which can identify any stationary obstructions behind the vehicle. A Littleton CO Area 2017 KIA Sedona EX dealership offers quotes and other information for local customers. With three rows of seats and plenty of high-tech amenities, this minivan makes the perfect family vehicle.