Review - 2019 Stinger GTS Limited Edition - Denver Area
View Inventory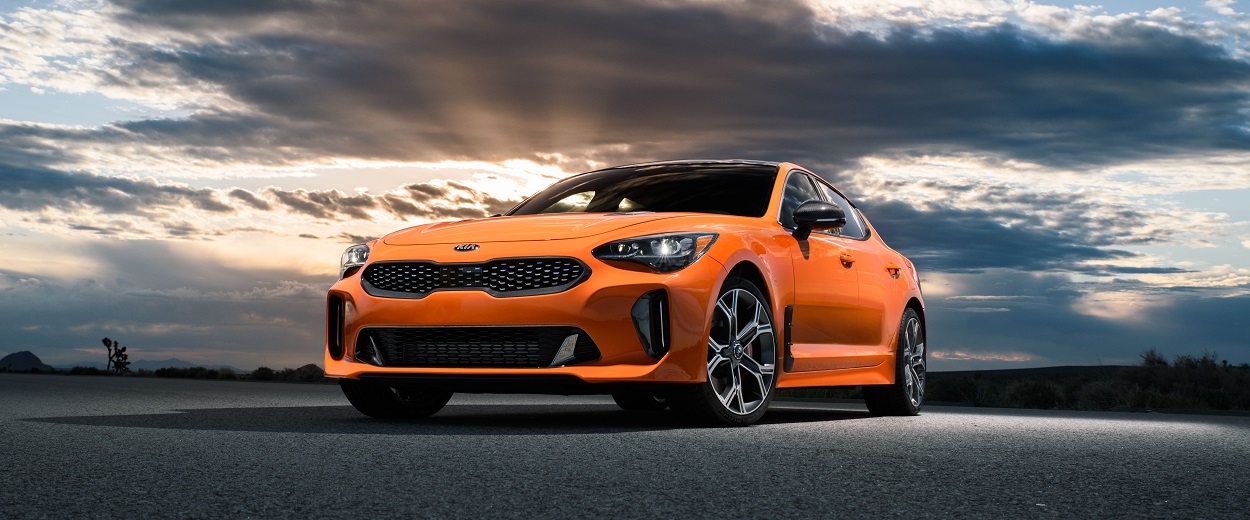 Vehicle Overview
The Kia Stinger was introduced to the world at the 2017 North American International Auto Show. Similar in appearance to the Kia Optima (but with certain stylistic enhancements), the Stinger garnered much attention at an event that is typically dominated by American auto companies. The Stinger represents a departure from the philosophy that we've come to know well from Kia, which is subdued value. In this case, the "value" remains, however the Stinger is anything but subdued. The Stinger is offered with 2 different engines - a 2.0L 4-cylinder producing 260 horsepower, and a growling 3.3L V6 twin turbo that churns out 365 horsepower.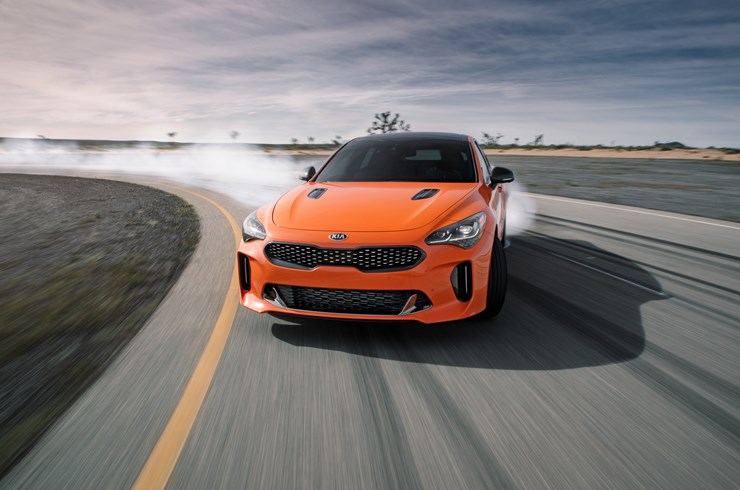 Exterior - 2019 Stinger GTS Limited Edition
The exterior styling of the Stinger is aggressive and elegant. It is a well-proportioned car that beautiful to look at. It looks similar to the Optima, however the Optima is a traditional sedan with a trunk whereas the Stinger is technically a hatchback, or sportback. The front fascia displays LED headlights that compliment the aggressive style of the rest of the exterior. The rear spoiler is a subtle "ducktail" lip spoiler which promotes aerodynamic downforce. The Stinger has air inlets and curtains to help reduce front-end lift and compliment the large brake cooling ducts. The brakes and rotors have been upgraded to Brembo as well.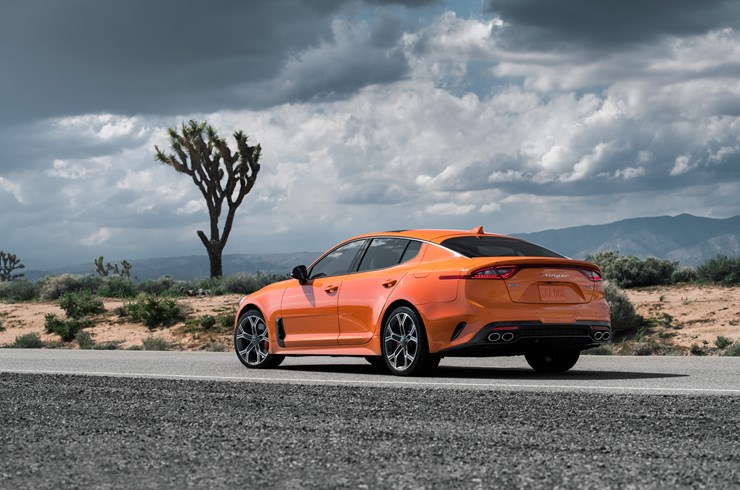 Interior - 2019 Stinger GTS Limited Edition in Denver CO
The 2019 Stinger GTS Limited Edition review starts off in the interior, which is attractive and sporty. There is plenty of technology inside to meet everyone's needs. Kia has a multi-color screen in the gauge cluster that is smartly designed and provides very useful information to the driver. The center display actually shows the driver what headlight setting is on, or at what speed the wipers are working. A head-up display cleanly projects the speed ahead of you, and Kia allows you to customize many details of the controls, such as how many times the turn signals flash when you touch the turn signal stalk.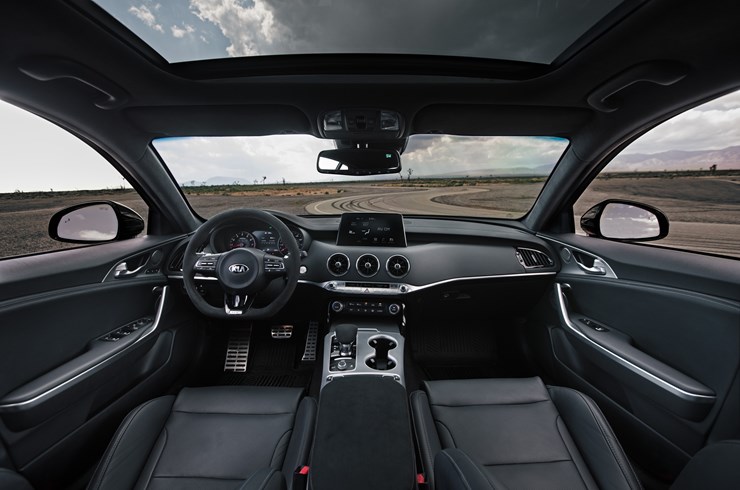 Mechanical - Stinger GTS Limited Edition specs in Denver
The Stinger is a GT (Gran Turismo) car, which is built for spirited performance over long distances. The vehicle is perfect for long, twisty roads that are common in the Denver area. It features a front MacPherson suspension modified with large diameter shock absorbers, high-strength wheel bearings and an aluminum strut brace. The rear suspension is a 5-link system that is mounted onto a stiffer rear subframe. The chassis is stiff and made up of higher-strength steel. The 2019 Stinger GTS limited edition introduces us to Kia's D-AWD system. The D-AWD system has 3 settings that the driver can choose from. In Comfort mode, the system sends 60% of the available power to the rear wheels. Bump that up to Sport mode and 80% will now shift to the rear wheels. For those desire complete racing performance, Drift mode allows you to send 100% of power to the rear wheels. Managing all of this is a mechanical limited-slip differential that evenly distributes the power between the rear wheels.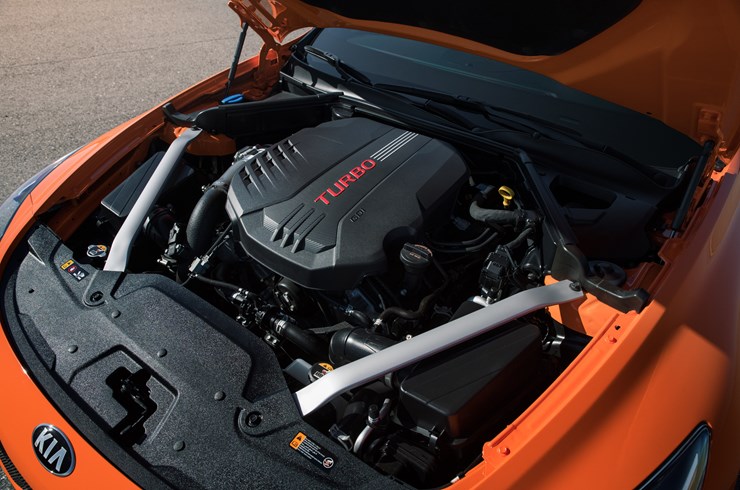 Powertrain - Stinger GTS Limited Edition specs in Denver CO
And speaking of power, this 2019 Stinger GTS limited edition review vehicle comes standard with the 365-horsepower twin turbo V6 that launches the Stinger from zero to 60 on only 4.7 seconds. The 376 lb-ft of torque is available at only 1,300 rpm. The Stinger is capable of reaching speeds past 160 mph (167 to be exact), and it produces more horsepower than virtually all competitors in its class. Straight-line performance is incredible, especially at this price point.
Safety - 2019 Stinger GTS Limited Edition dealer
The Stinger boasts a slew of safety features. These include dual front and side airbags, full-length side curtain airbags and a driver's side knee airbag which offers a significant level of leg protection. Front seat belt pretensioners are also included. Cornering brake control, electronic stability control, traction control and hill start assist control are all standard features. A tire pressure monitoring system easily lets you know when you need to stop to fill the tires. Drive Wise is Kia's suite of driver-assistance technologies that are designed to keep you alert, aware of surrounding traffic, and even intervene in certain situations to help you avoid collisions. Forward collision-avoidance assist with pedestrian detection is designed to alert you of pedestrians and even apply the brakes. Rain-sensing wipers are standard equipment. The Stinger also features a blind spot collision warning as well as a rear cross-traffic collision warning. It goes without saying that Kia has not forgotten to devote time to safety in the creation of this performance sedan.
The 2019 Stinger GTS Limited Edition is finally here. Kia is proud to be serving Denver Colorado with exceptional offers and service. Visit your authorized Kia dealer serving Denver Colorado and the greater Denver area. The 2019 Stinger GTS limited edition review will take on an entirely different meaning when you personally experience the exhilaration of the fastest Kia ever produced. Contact your local Kia dealer serving Denver Colorado for a personalized tour and test drive one of the best performance values on the market today!