Wheatridge Area 2019 KIA Sorento
View Inventory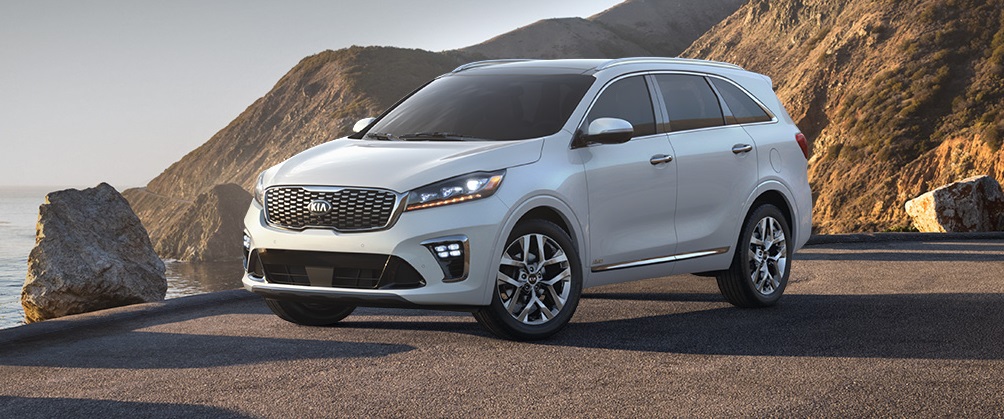 2019 KIA Sorento Overview
The new 2019 KIA Sorento is one glamorous mid-size SUV to keep your eye on for the new year. With 6 gorgeous trims - L, LX, LX V6, EX V6, SX, and SX Limited - you have a diverse lineup of vehicles that serve a wide variety of different needs for your family. Our KIA dealer serving Wheatridge welcomes you to browse through some of the most impressive features of the new KIA Sorento. The Wheatridge area is full of adventure and families who live out those adventures. If you're in the hunt for a new mid-size SUV, please take a moment to learn about the new KIA Sorento in the Wheatridge area. We hope that you learn about this remarkable new mid-size SUV that's going to be serving Wheatridge Colorado drivers with a premium and fun driving experience.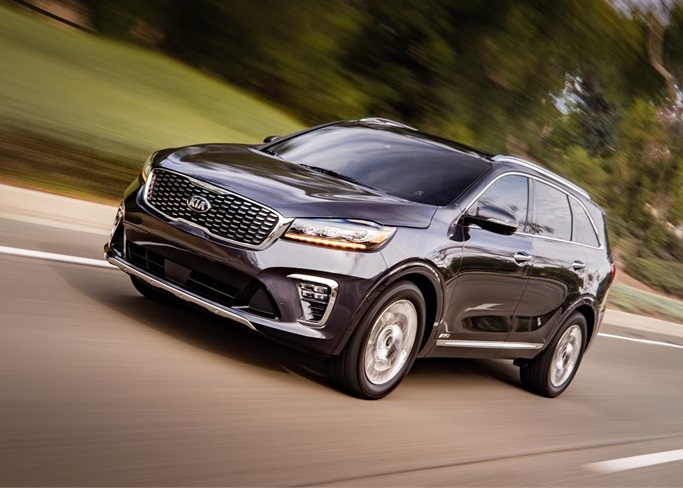 2019 KIA Sorento's Exterior
The front black matte grille is distinct on the 2019 KIA Sorento and makes a bold statement as you drive forward into every endeavor in life. You're also going to love the solar control glass that helps to keep you cool on smoldering summer days. A Panoramic sunroof is available on two trims (SX and SX Limited), so you can always increase your view of things and make every journey special for little ones. It's one of the big reasons that the KIA Sorento is going to make a huge impact in the Wheatridge area, as it takes the exterior view and makes it part of the interior as well on the SX and SX Limited. Put simply, we love it!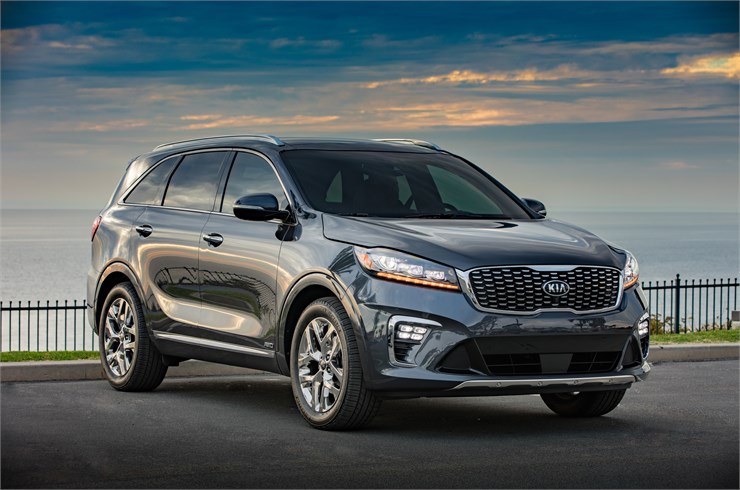 2019 KIA Sorento's Interior
L and LX trims both have luxurious cloth seats with YES Essentials® Fabric Treatment, which is a repel and release treatment that keeps your seats looking and smelling cleaner. On the technology side of things, there's UVO play with a 7.0" Touchscreen display that shows all your navigation and entertainment information. It's compatible with Apple CarPlay and Android Auto and comes with a 6-speaker audio system standard on lower trims, and a 10-speaker audio system on higher trims like the SX and SX Limited. Your new Sorento also features advanced technology to ensure a quiet, gentle cabin ride, both on the noise side and on the mechanical side of things. Your KIA dealer serving Wheatridge most heartily recommends the interior of this one, no matter what trim you'll be buying. It's luxurious but traditional enough to make you feel like you're right at home.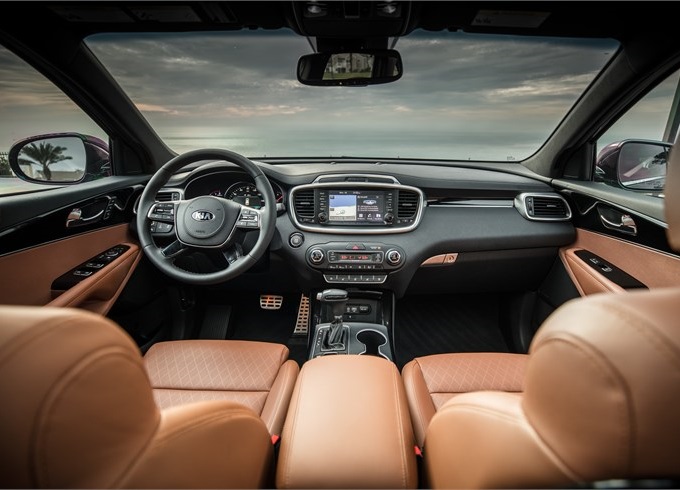 2019 KIA Sorento's Mechanical
The mechanical side of things looks good on the Sorento as well. You've got a 2,000 pound towing capacity, Motor Driven Power Steering for weight reduction and improved efficiency, and H-shaped sub-frame and independent multi-link Rear Suspension to create one of the smoothest rides on the road. Put simply, the 2019 KIA Sorento promises to give you a sturdy but agile ride with quietness and dignity, all the while taking advantage of its suburban power framework. It's a city dweller.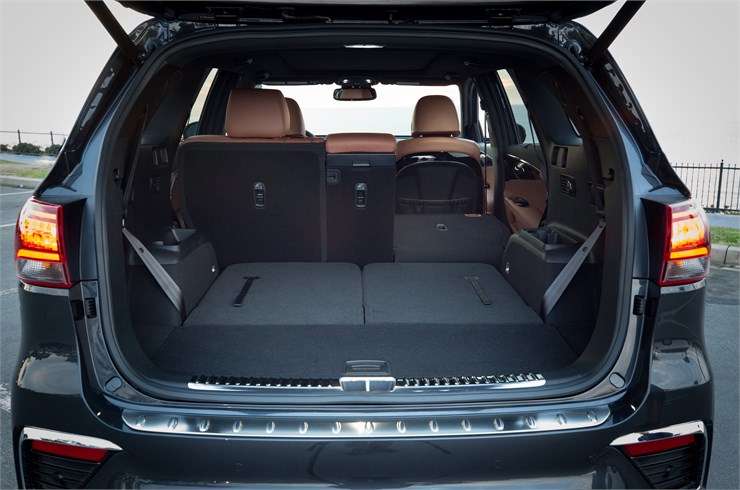 2019 KIA Sorento's Powertrain
Powertrain will vary by trim. The L and LX feature a 2.4 liter DOHC 16-valve I-4 engine that gives you 185 hp @ 6,000 rpm and 178 lb-ft @ 4,000 rpm of torque, with a compression ratio of 11.3:1. The remaining trims feature a 3.3 liter DOHC 24-valve V6 engine good for 290 hp @ 6,400 rpm and 252 lb-ft @ 5,300 rpm of torque, with a compression ratio of 11.5:1. It's a powerful but refined powertrain choice that keeps things simple for folks who aren't exactly looking for off-road capability but definitely want to have efficiency and powerful commutes. As your KIA dealer serving Wheatridge, we love the two-engine model here and believe you'll love it, too!
2019 KIA Sorento's Safety
Last but certainly not least, your Sorento will be serving Wheatridge Colorado drivers with the most advanced, refined safety features in a display of innovative prowess here. Standard on all trims: Dual Front Advanced Airbags, Dual Front Seat-Mounted Side Airbags, 1st and 2nd row side-curtain airbags, rollover sensor, Traction Control System (TCS), and Side Impact Door Beams that place reinforced steel beams in all doors to protect you further in a crash. The manufacturer has gone the extra mile to ensure that in the event of a crash, you're protected, but they've also made normally advanced safety features completely standard across all trims, and this is going to be serving Wheatridge Colorado with an enormous variety of safety features built right into the standard price. It doesn't get better than that!
Contact Us For More Information
We invite you to contact us for further information about this gorgeous mid-size SUV! If you think that this one is going to be the one to watch in 2019, you're absolutely right. With terrific standard safety features, a host of advanced safety features, and plenty of style and grace to spare, the latest invention by KIA is going to be one for the ages when it first rolls out on our lot. Just give us a call today if you'd like to learn more or simply write into us and let us know if you have any questions. We will give you the rundown on each of the category of features and let you know exactly what you can expect when you make this one your new family SUV. Call or write today! We look forward to speaking with you.