Wheatridge Area 2019 KIA Forte
View Inventory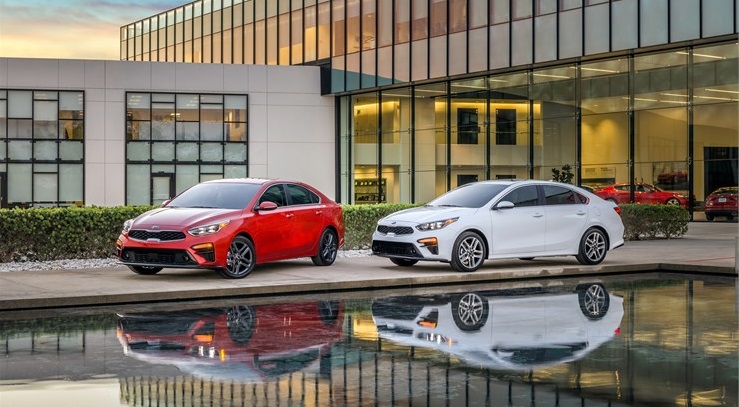 2019 KIA Forte Overview
KIA explains that they've redesigned the 2019 KIA Forte withe fun in mind, and a quick overview of its new engines and features will confirm this information. It's a bit sportier, a bit more full-featured, and a lot more vehicle that you're used to expecting from the Forte. If you've passed over this model in the past, we invite you to learn more about how KIA has redesigned the KIA Forte near Wheatridge. We believe you'll love what they've done. Here's why.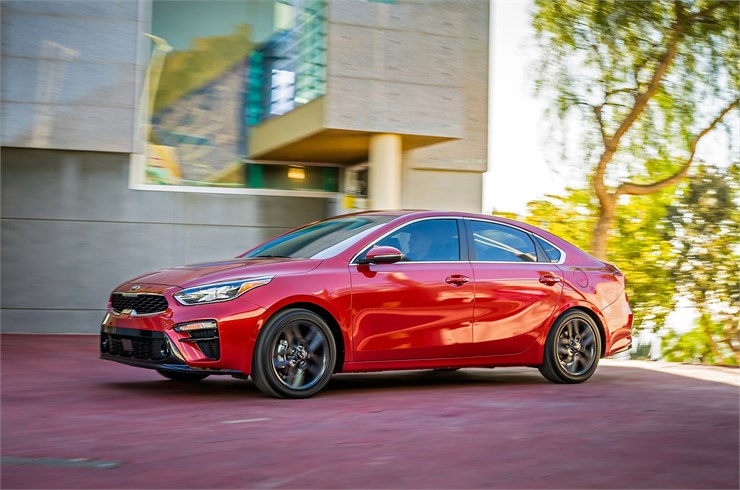 2019 KIA Forte's Exterior
They've really spiced things up on the exterior, with a sporty rear spoiler that lets folks know what you're driving in the flashiest of ways. LED lighting throughout the exterior makes for an appealing entrance: LED headlights, daytime running lights, and taillights are a complete lighting system for a vehicle that is entering a new phase of its life. It's serving Wheatridge Colorado shoppers with a sporty, sophisticated look that few other vehicles on the road in 2019 will be able to sport. And a 54% Advanced High-Strength Steel (AHSS) construction makes for a remarkably safer, sturdier drive. Specials for Wheatridge shoppers at our dealership will be serving Wheatridge Colorado drivers with more reasons than ever before to pick the Forte as their new vehicle. The Forte had a legion of fans at the North American International Auto Show in Detroit this year, and you can expect that it'll gain millions more when it finally hits dealerships across the land, including out dealership here in Wheatridge Colorado.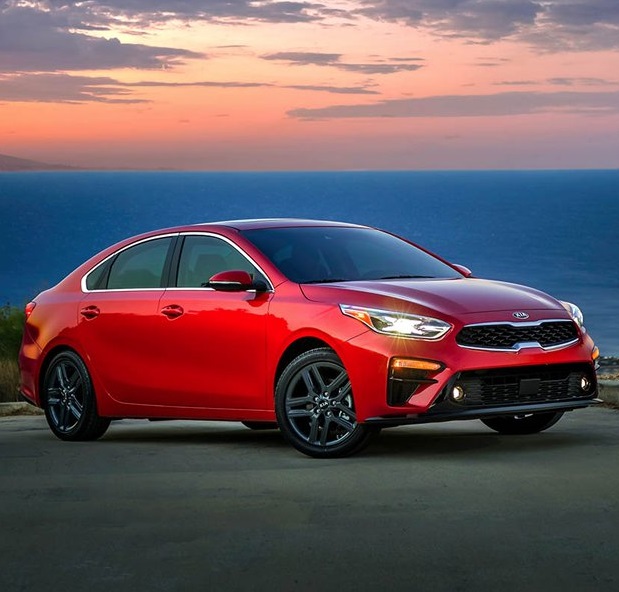 2019 KIA Forte's Interior
The inside of the newest Forte is a luxurious place to be. With a 10-way adjustable power's driver seat, 8" color touchscreen to control all your navigation and infotainment, beautiful LED interior lighting to set the mood for every trip, and heated/ventilated front seats, you have a recipe for luxury on the 2019 KIA Forte interior that's going to boggle your mind in the best of all possible ways. Technology abounds in the interior, starting with a Harman/Kardon® 320-watt Premium Sound System that lets you take full advantage of Android Auto and Apple CarPlay compatibility. SOFINO seat trim gives you a premier seat to the show, as you enjoy deep comfort and ergonomic touches on the interior that make your ride more comfortable than ever before.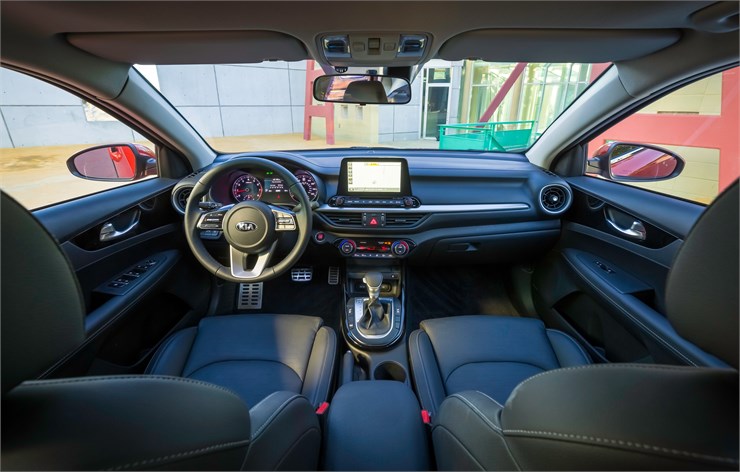 2019 KIA Forte's Powertrain
A brand new, more efficient 2.0-liter four-cylinder engine will be standard on each trim of the new 2019 KIA Forte near Wheatridge. It's giving out 147 horsepower and 132 pound-feet of torque, and while the specs are the same, expect a lot less engine noise with this new edition and much greater efficiency. Don't let the numbers fool you. This is an all-new, redesigned engine with performance and quietness in mind!.
2019 KIA Forte's Mechanical
Mechanical touches on the 2019 KIA Forte near Wheatridge includes Motor Driven Power Steering (MDPS) for the silky smooth drive you'd expect from a vehicle in this class, Intelligent Variable Transmission (IVT) or 6-Speed Manual Transmission, and a Cooled Exhaust Gas Recirculation (EGR) system for greater efficiency.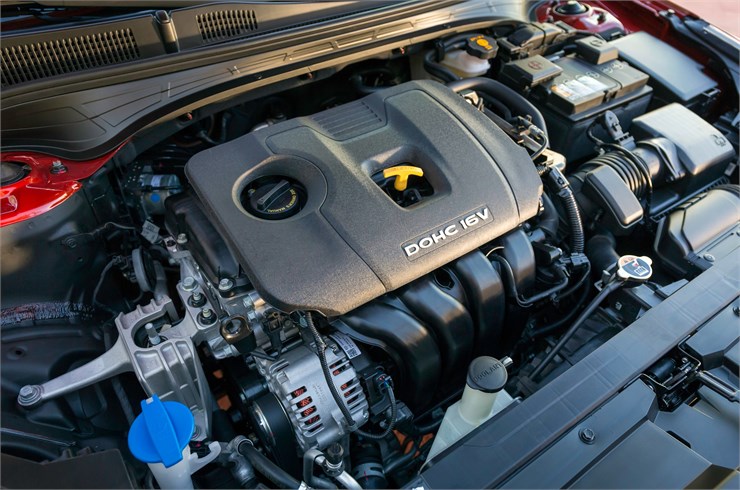 2019 KIA Forte's Safety
The basic safety system features Dual front advanced airbags, Dual front seat-mounted side airbags, and Full-length side curtain airbags to provide the practical protection you need in the event of a crash, but they didn't stop there. Advanced safety features include Electronic Stability Control (ESC), Hill-Start Assist Control (HAC), Lane Departure Warning (LDW), and Smart Cruise Control (SCC), a dynamic driving package that doesn't always fall under the safety umbrella but always keeps you safe when you're driving the 2019 KIA Forte near Wheatridge and other destinations. Our specials for Wheatridge shoppers continue serving Wheatridge Colorado drivers with deals that help put you in a beautifully safe vehicle like the Forte.
Contact Us For More Information
If you want to learn more about the Forte in 2019, it's your time to take advantage of our year-round offer of info and updated information! They always keep dealerships up to date with the most recent of information, so by the time you read this there may be a lot more to know about the new Forte. We invite you to call us any time, or write to us, so that we can fill you in on what else the Forte will throw your way in 2019. It looks to be a sportier rendition of pure luxury, but we love what they've done with the safety features on this vehicle. If you think you know everything there is to know about the Forte, think again! You're going to absolutely be blown away by what have to share with you by the time you call. And always ask about specials for Wheatridge shoppers! We are constantly throwing out new deals that help you save money on vehicles like the Forte. If you're interested in learning more, just call us today or write to us with your questions. Our friendly, helpful sales team will be standing by ready to share our enthusiasm for the beautiful new Forte in 2019. It's a brand new year with a brand new look and brand new features. Share the excitement with us today by calling and scheduling a test drive or simply gabbing about this marvelous new vehicle. We look forward to serving you and helping you drive away in one of these majestic new Fortes in 2019 and beyond!