View Inventory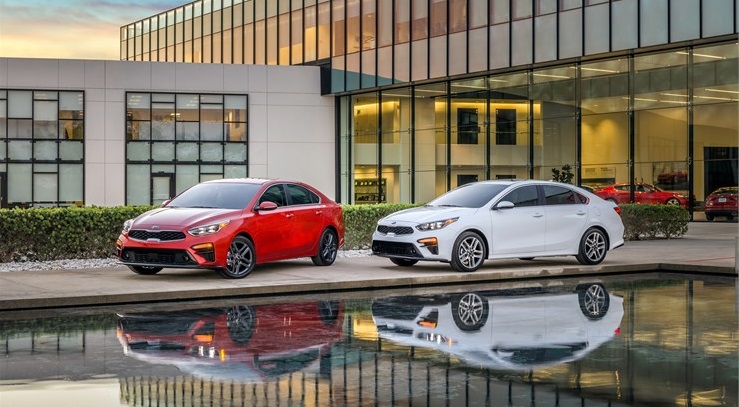 2019 KIA Forte Overview
The all new 2019 Kia Forte is a sleek compact sedan with a wide range of interior and mechanical features, making the car fun to drive. From the outside, the car's exterior grabs attention, and Kia made sure to focus on important safety features and dynamic driving systems, keeping you safe and making the car easier to control.
If you're interested in test driving a 2019 Kia Forte near Longmont CO, contact Arapahoe KIA, a dealership serving Longmont and nearby areas.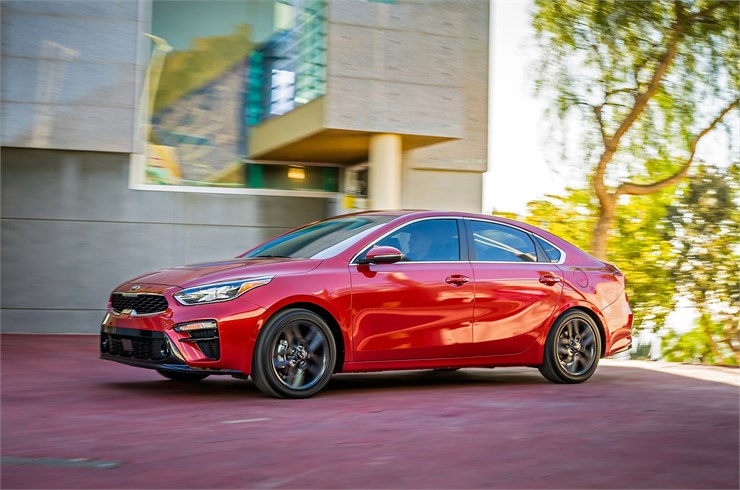 Exterior - 2019 Kia Forte
Taking design cues from the Kia Stinger, the Forte features a tiger-nose grille, sleek front fascia and available 17-inch machine-finished alloy wheels and a rear spoiler for a sporty design. Available LED front headlights feature dynamic bending lights with auto-leveling, a useful option that adjusts the headlamps in the direction you're turning the steering wheel. High beam assist automatically switches your high beams off when oncoming vehicles are approaching you, letting you keep the high beams on without constantly having to turn them off.
The available rear LED taillights have a captivating lamp design that captures attention while you're driving or parked.
Upgrade to the Launch Edition for more stunning exterior options, including sport side sills, 17-inch graphite-finished alloy wheels, a Fire Orange paint job, rear trunk lid spoiler, power sunroof and specially designed LED headlights.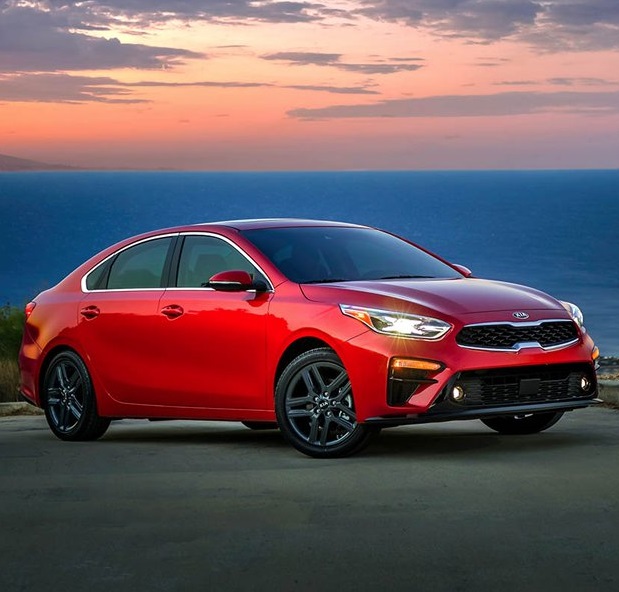 Interior - 2019 Kia Forte near Longmont
Immediately upon sitting in the 2019 Kia Forte, you'll notice the innovative design.
For more information about optional interior features on the 2019 Kia Forte near Longmont CO, contact Arapahoe KIA, a dealership serving Longmont and surrounding cities. LED interior lighting lets you easily spot items that fell on the floor, and the SOFINO seat trim contributes to the sporty design.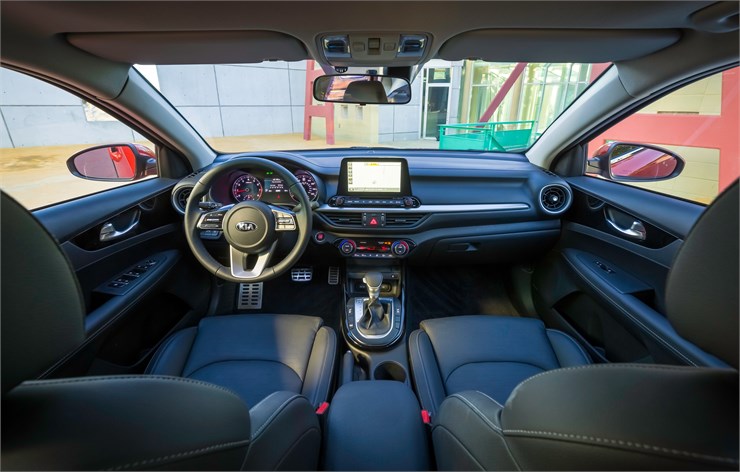 Apple CarPlay and Android Auto allow you to connect your smartphone to the 2019 Kia Forte, so you can make phone calls, get directions or play a song from your music library. Bluetooth wireless technology makes syncing devices to the car simple, and the 8-inch touchscreen display lets you clearly see the map while you're driving. Use the touchscreen to choose your favorite tune and enjoy the high-quality audio from the Harman Kardon 320-watt premium sound system.
Mechanical - Kia Forte specs near Longmont CO
An upgraded suspension allows you to handle turns and speed bumps better, and the reworked throttle offers superior control and precision. With adjustments to the motor-driven power steering, the 2019 Forte has a better steering feel when compared to the previous models.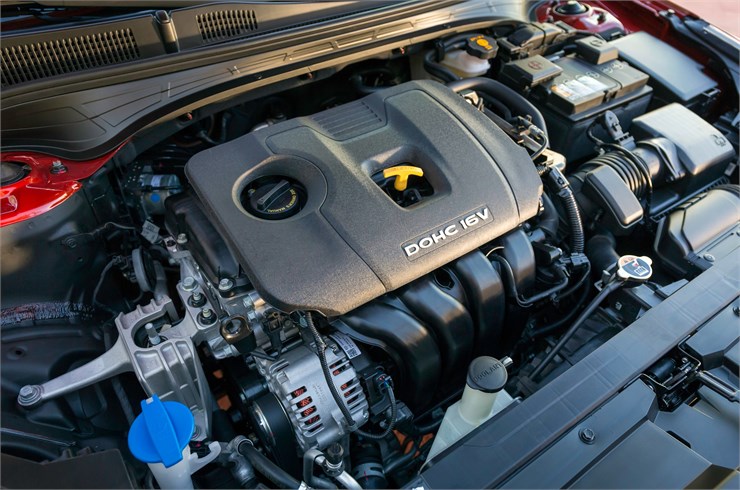 An alternator management system comes standard on all trim levels, and this feature ensures the car only charges the battery while you're decelerating or have enough engine power to spare without hampering performance.
Powertrain - Kia Forte specs near Longmont
The all new 2019 Forte features a four-cylinder, 2.0-liter engine, producing 147 horsepower and 132 pound-feet of torque. The engine is connected to a standard six-speed manual transmission for a responsive driving experience. There's also the option of upgrading to the intelligent variable transmission (IVT), designed to offer better performance than a CVT. The IVT has adaptive shift logic, providing linear, smooth acceleration.
Safety Features - 2019 KIA Forte dealer
Drive comfortably behind the wheel of the Kia Forte, as the car has been designed with safety in mind. Made with a reinforced chassis, the Forte has both passive and active systems that control the vehicle in dangerous situations, providing split-second assistance.
If you've ever been sitting at a red light hoping your car doesn't roll back and hit the vehicle behind you once you remove your foot from the brake, hill start assist control offers peace of mind. This feature helps keep the car in place when you accelerate from a stop on a hill for decreased rollback.
Anti-lock braking assistance lowers the amount of skidding in particular situations, and the brake assist system detects scenarios where emergency braking is required and applies additional braking pressure.
The electronic stability control feature complements the traction control system, reducing wheel spin and offering increased control while driving in rough conditions.
Height-adjustable seat-belt anchors in the front seats provide a cozy fit, and pretensioners tighten the seat belt when a collision is likely to occur, providing preemptive protection. With six air bags and multiple sensors that predict the severity of impact, the Forte provides superior protection to keep you and your family safe during an accident. The car also detects when there's a person sitting in the front passenger seat, which helps the airbag system manage inflation.
Conclusion
Featuring many improvements over the past model, the all new 2019 Forte pairs a sleek exterior with useful interior features. The various powertrain options let you customize your driving experience, and the updated mechanical design increases performance and handling.
Safety is another area where this car shines, utilizing many systems that help prevent accidents from occurring. In the unfortunate event that a collision does occur, the added safety features help reduce the risk of serious injury, so you can feel safe transporting your loved ones inside this vehicle.
Find out how it feels to drive the all new 2019 Forte. Contact Arapahoe KIA, a dealership that's serving Longmont and other cities near Centennial, Colorado, and schedule a time to see the 2019 Kia Forte near Longmont CO.