View Inventory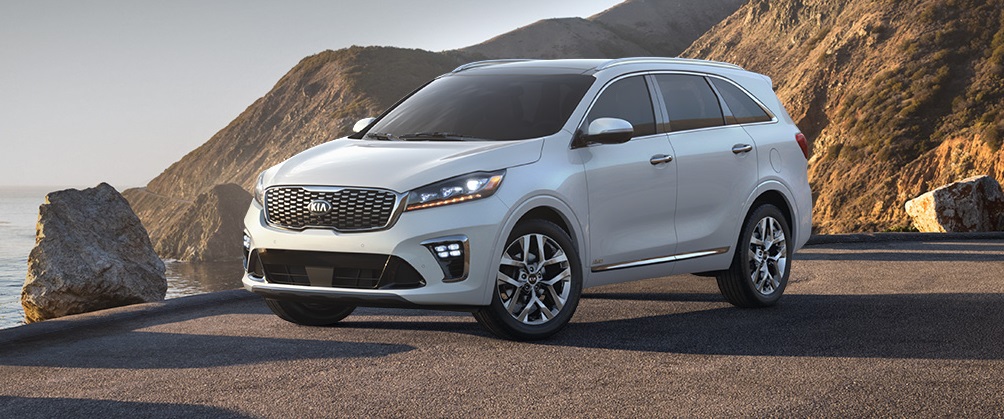 2019 KIA Sorento Overview
The KIA Sorento is one of the leading mid sized sport utility vehicles on the market. It is manufactured by the South Korean company known as KIA. Over the last few years, the Sorento has won major awards in recognition for its quality. With a KIA Sorento, consumers will be able to drive and ride in a spacious and practical vehicle. The Sorento occupies at least five passengers with its spacious interior. By getting a 2019 Sorento, consumers will be able to enjoy one of the most reliable and affordable mid sized sport utility vehicles available.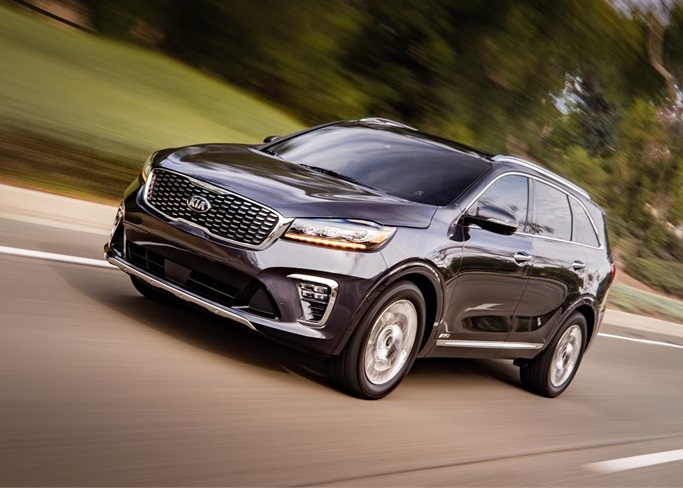 Exterior - 2019 Kia Sorento
The exterior of the 2019 Kia Sorento is similar to your typical sport utility vehicle. It has an elevation higher than you sedan or coupe. There are four doors and as backdoor for storing items. At the back of the vehicle, there is a back door that is similar to a hatchback. In both the front and the back of the vehicle, there are LED headlights that help maximize visibility. On the sides of the driver and passenger seats are the mirrors that help drivers spot traffic on their blindspots. At the front of the vehicle is a large grille with the manufacturer logo. With a new Sorento, there are a wide range of colors which are able to make the vehicle appealing to a variety of consumers. As a result, the exterior of the Sorento is among the most attractive and stylish in the class.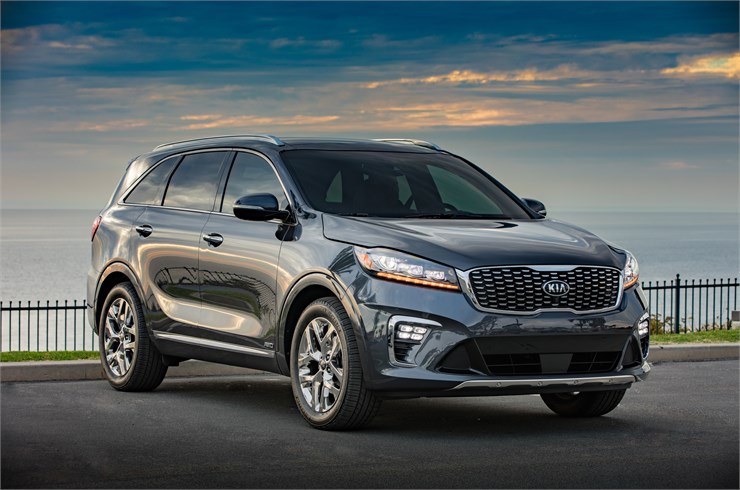 Interior - 2019 Kia Sorento near Longmont
One of the aspects of the 2019 Kia Sorento that consumers will want to consider is the interior. The Sorento has seven seats that will allow up to 7 people to be in the vehicle at any given time. The seats are very comfortable as they contour to the passenger and driver. The backseats of the Sorento will also fold down so that you can add extra space for storing items. There are also new color options that will allow you to get seating that is more appealing. Along with the seats, the Sorento also has a large panoramic moonroof that will make driving more enjoyable. The dashboard of the Sorento comes in the colors of Mahogany and Terracotta which make it look comparable to luxury sport utility vehicles.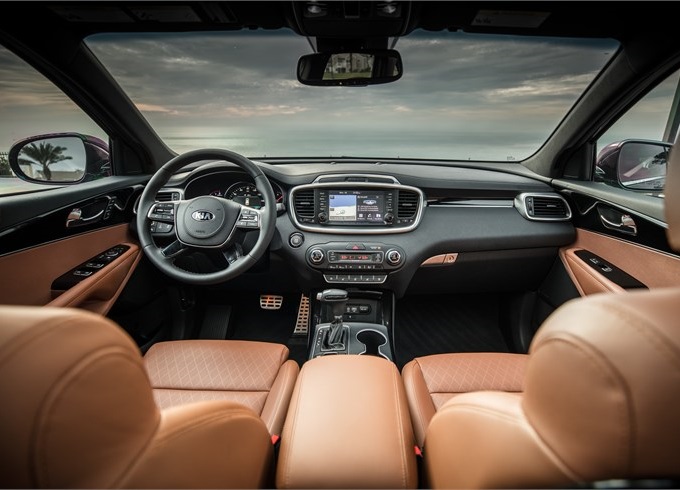 Along with having comfortable seats and a moonroof, the interior also provides drivers and passengers with excellent technology features. These include Apple Car Play and a touchscreen to access the radio and other entertainment options. The other interior features of the Sorento has a number of other features that make it an enjoyable vehicle to have. It comes with features such as cruise control, auto off headlights, remote engine start, steering wheel controls and a trip computer. You will also get things such as keyless entry, power mirrors, heated mirrors, power steering and a back up camera. There is also a vehicle anti theft system, an alarm and power door locks. A Sorento also has other features which include an adjustable steering wheel, a universal garage door opener and optional interior cargo shade and rear parking aid.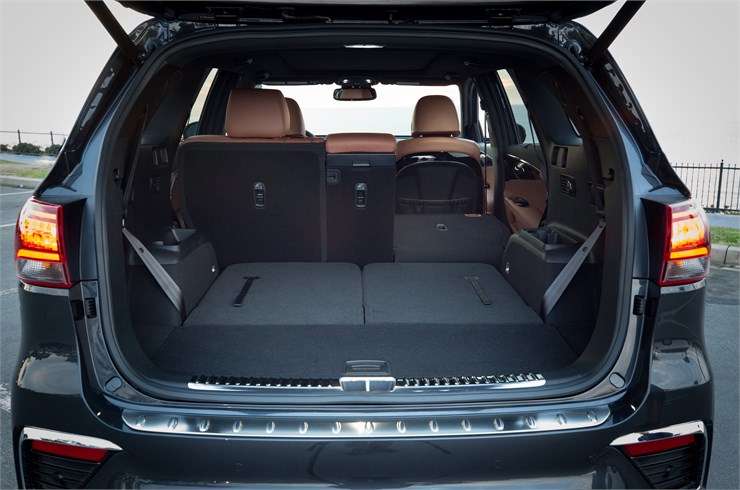 Mechanical - Kia Sorento specs near Longmont CO
A 2019 Kia Sorento has a number of mechanical features that set it apart from the competition. The vehicle has Drive Wise driver assist technologies. The vehicle also has four wheel all wheel drive which makes it easy to drive on any terrain. A Sorento's suspension is strut in the front and Multi Link in the rear.
Powertrain - Kia Sorento specs near Longmont
The powertrain of the new Sorento is among the best in the class. It offers an 6 speed automatic transmission. You can also get a Sorento that offers an automatic transmission with a manual mode as well. The fuel economy is 26 miles per gallon on the highway and 21 miles per gallon in the city. It's total fuel tank capacity is 18.8 gallons. In terms of performance, the Sorento has a 4 cylinder engine with 185 horsepower and 178 pounds feet of torque. The turning diameter of the Sorento is 37.3.
Safety Features - 2019 KIA Sorento dealer
In terms of safety features, the all new Sorento has many that will ensure the comfort and safety of both drivers and passengers. With the Sorento, you will be able to take advantage of multiple air bags. They all come in the driver seat, front head, front side, passenger side and the rear head. This provides maximum protection for everyone in the vehicle during a collision. The vehicle also has 4 wheel ABS and 4 wheel disc brakes. Other safety features include Brake Assist, Child safety locks, traction control and cross traffic alert. There are also other features which include Electronic stability control, integrated turn signal mirrors and blind spot monitoring. All of these features help make the Sorento one of the safest vehicles to drive and ride in.
Closing Statement
Anyone who is looking to take advantage of the many benefits that the new Sorento has to offer will want to come visit any Longmont Area dealership. They will be able to look at and test drive a new 2019 Kia Sorento near Longont. As well as going on a test drive, consumers will also be able to get key questions answered about purchasing any 2019 Kia Sorento near Longont. The Longmont area dealership will have plenty of salesmen and staff to answer any questions about buying or leasing a 2019 Kia Sorento near Longont. If you are looking to purchase or lease a Sorento in the Longmont area then contact Arapahoe Kia. When looking to contact Arapahoe Kia, we be available to help you find the ideal Sorento you are looking for. We have been serving Longmont Colorado for many years. While serving Longmont Colorado, we have provided many consumers with the help they need to get into a top vehicle on a regular basis. If you are in the market for an all new Sorento then contact Arapahoe Kia, our premier dealership serving Longmont Colorado today.