2019 Kia Optima Centennial Colorado
View Inventory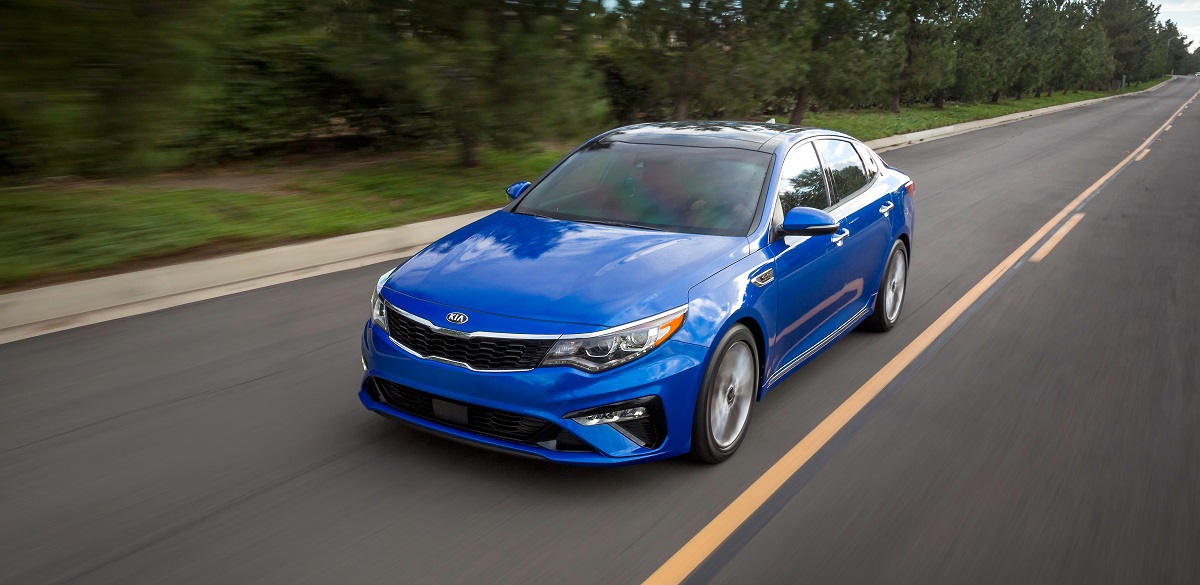 Vehicle Overview
New engine options, supple leather and advanced safety features are just a few of the reasons to come down and check out the new Optimas. These vehicles are designed to help you get where you're going with style and class so that you can enjoy your drive to and from work. This vehicle comes with a new and smart navigation system, and you'll love all of the incredible new features that are designed to make it easier than ever to cruise safely to your destination. A number of interior and exterior design updates make this new vehicle one you simply have to see to believe. Read our 2019 Denver Review of the new KIA Optima and then come down and see us in Centennial Colorado.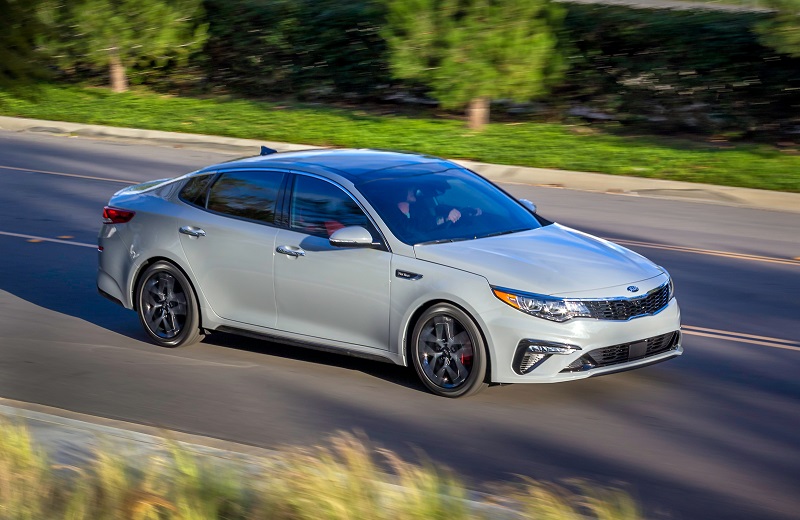 2019 Kia Optima's Exterior
There are some new wheel options depending on the trim level you decide to go with. For starters, you can go with the 16-inch wheels if you want a bit more stability. For the best driving and handling, consider the all-new 18-inch alloy wheel options. LED taillights are now included, and there are plenty of new standard features. Get a smart key, smart trunk and power windows on all of the available trim levels. Come down and explore the optional panoramic roof and a host of other options that are designed to help you enjoy your ride. Find out about the new KIA Optima by coming down to see us in Centennial Colorado.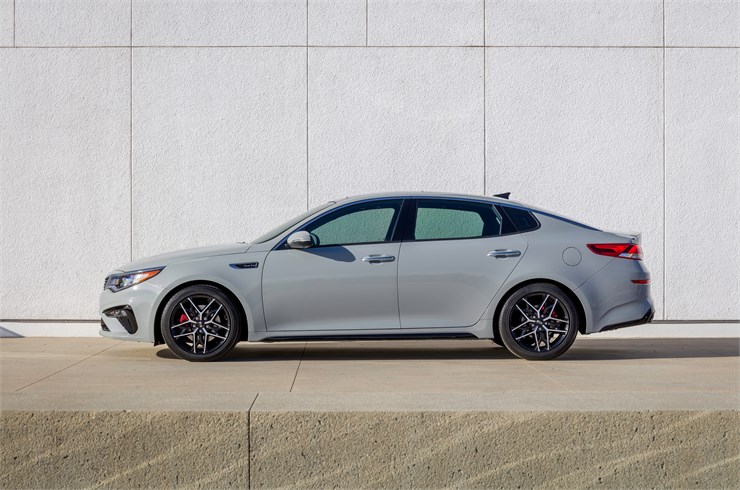 2019 Kia Optima's Interior
The new models come with a top-tier UVO link system with navigation on the SX and SXL models. It also comes as optional equipment on the EX model. You'll always stay updated with two free map updates each year, and the system is also designed to take advantage of smart voice-activated commands so you can focus on the road. The vehicle comes with Apple CarPlay and Android Auto to listen to your music and stay in touch with friends and family. This vehicle is designed to provide you with an exceptional system that will help you listen to your audio in stunning high-definition audio.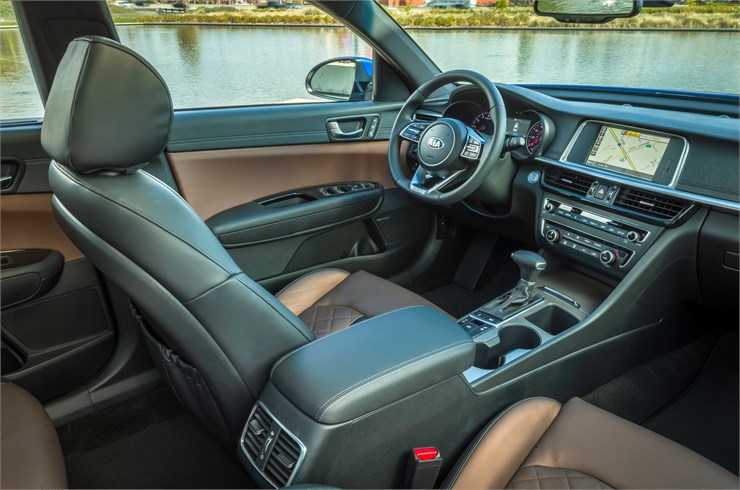 The vehicle is designed to make your trips more comfortable as well with Nappa leather and a leather-wrapped steering wheel as an optional upgrade. Smart sensors work to help you stay in control of your vehicle and the road and you'll love the smart features that help to illuminate your experience with ambient vehicle lighting. Explore the 2019 Kia Optima at our dealership serving Centennial Littleton Aurora shoppers.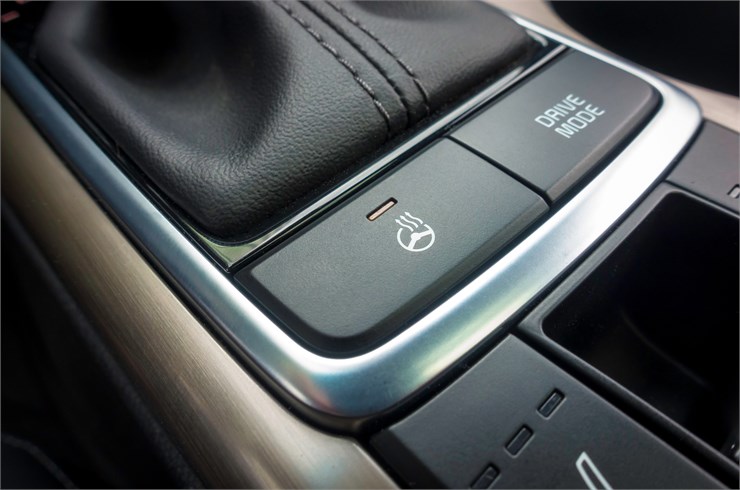 2019 Kia Optima's Mechanical
With a solid support structure and reinforced frame, you have the makings of a truly great vehicle that is designed to last. This vehicle will help you get more stability and support as you're driving down the road. Thanks to features like anti-lock brakes and a supple suspension system, you'll stop more efficiently and surely and avoid skidding when you have to come to a sudden stop. The vehicle also comes with a reinforced side beam to help protect your occupants. With a smart transmission system, you'll love the reliability and effectiveness of the dual-clutch seven-speed transmission system that gives you incredible control and power at all speeds. Get to know the 2019 Kia Optima at our dealership serving Centennial Littleton Aurora shoppers.
2019 Kia Optima's Powertrain
Feel the power of the new engine option that features a turbocharged 178-horsepower beast under the hood. This is more than enough power to pass easily on the freeway and tow all your passengers with ease. The engine will work hard to ensure you have a smooth ride, and it's also highly efficient since the turbocharger only kicks in when needed during quick accelerations. Contact us to find out how you can test drive this vehicle when it is released, you'll love the functionality and design of this incredible vehicle and we want to help you get an incredible deal. The new KIA Optima is loaded with power for the 2019 model year, and we can't wait for you to see us in Centennial Colorado for your test drive.
2019 Kia Optima's Safety
When it comes to safety, this vehicle is designed to help you stay safe on the road. It comes with advanced autonomous systems that are able to monitor the road and help you stop more surely before an accident. Frontal collision mitigation systems can reduce and in some cases stop a frontal collision before it ruins your day. The vehicle also comes with lane departure warning systems that can help to detect when you're drifting out of your lane and gently ease you back into place. You'll love the corrective steering features that still give you control of your vehicle. Experience the safety and modern technology of the 2019 Kia Optima at our dealership serving Centennial Littleton Aurora shoppers. Make 2019 the year that you treat yourself.
We know that buying a new car can be a trying experience, but it doesn't have to be when you choose our dealership. Our professionals make the process of getting a new car as simple and easy as possible. Come down and talk with us so that we can go over your finance options to help you settle into the car of your dreams. When you trust our professionals, we will work hard to get you the financing and special incentives that will make owning a new car a reality.
*This article is intended for informational purposes only. Please contact the dealer for the most updated information and specials.