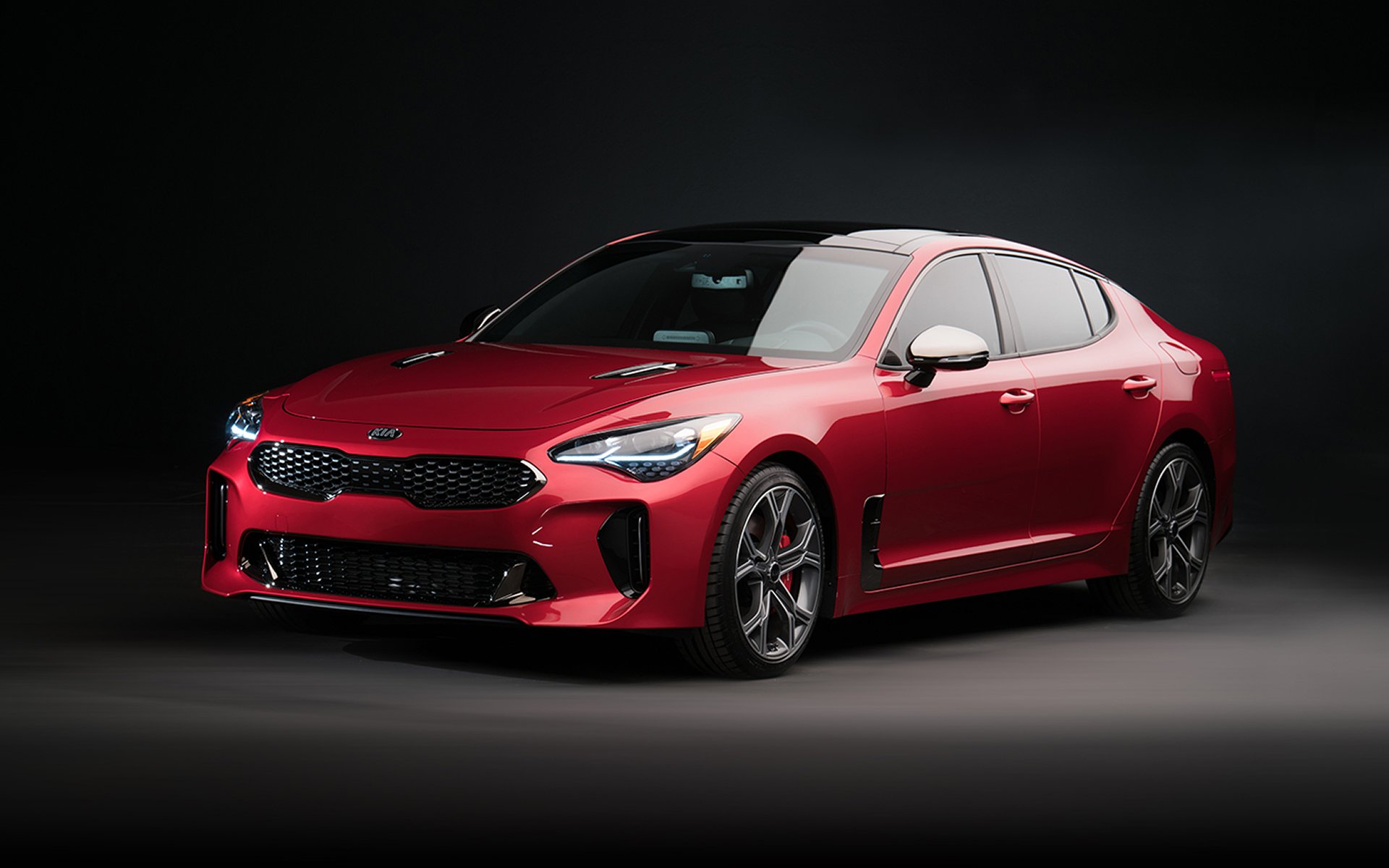 Overview
While it has built up a reputation for quality, features and value, KIA has yet to break through into the performance and luxury segment of the automotive market. This year, it is looking to change that with the introduction of the KIA Stinger. This new vehicle has the leading compact executive sedans right in its crosshairs. It has the plush interior, flashy styling, sharp handling and excellent power, not to mention the impressive safety systems, to take on its class-leading rivals. The 2018 KIA Stinger is bound to make waves, which is why we've put together a 2018 Stinger review to introduce the many great features and specifications this car has to offer. For more information, don't hesitate to contact our Denver area dealer. Arapahoe KIA has been serving Greenwood Village Denver Littleton with quality craftsmanship, courteous service and excellent deals, making it the place to go if you want to learn more about the 2018 KIA Stinger near Denver CO.
Interior
A quick look inside the 2018 Stinger quickly shows the car's luxury credentials. The seats are trimmed out in Nappa leather and metallic accents give the car a European elegance. The dashboard conjures feelings of technology and performance, thanks to the large digital instrument cluster in full color and a heads-up display. Between the two, you get live updates on all of the key performance statistics, including lap times, speed, acceleration and g-forces as you whip around on the 2018 KIA Stinger near Denver CO. For when you are not putting the Stinger through its paces around a track, there is a wealth of comfort features to choose from, including a 15-speaker Harman/Kardon audio system. The interior does an excellent job of showing off the Stinger's dual nature as a powerful performance vehicle and a comfortable luxury cruiser.
Exterior
The KIA Stinger is bound to stand out on the lot of any Denver area dealer. It is large and beautifully sculpted, from its aggressive front to its fastback rear, giving it the sporty and solid look that clearly identifies it as a luxury performance vehicle. The flared fog light bays, the low bumper and the angled roofline alone can easily turn enthusiasts' heads anywhere near Denver CO. At the same time, the smooth curves, quality finish and the wide stance give the car a solidity and respectability that places it squarely in the luxury compact class. If the picture we paint in this 2018 Stinger review is not enough, we invite you to check the Stinger out in person at Arapahoe KIA near Denver CO for a closer look at its unique and exciting styling design.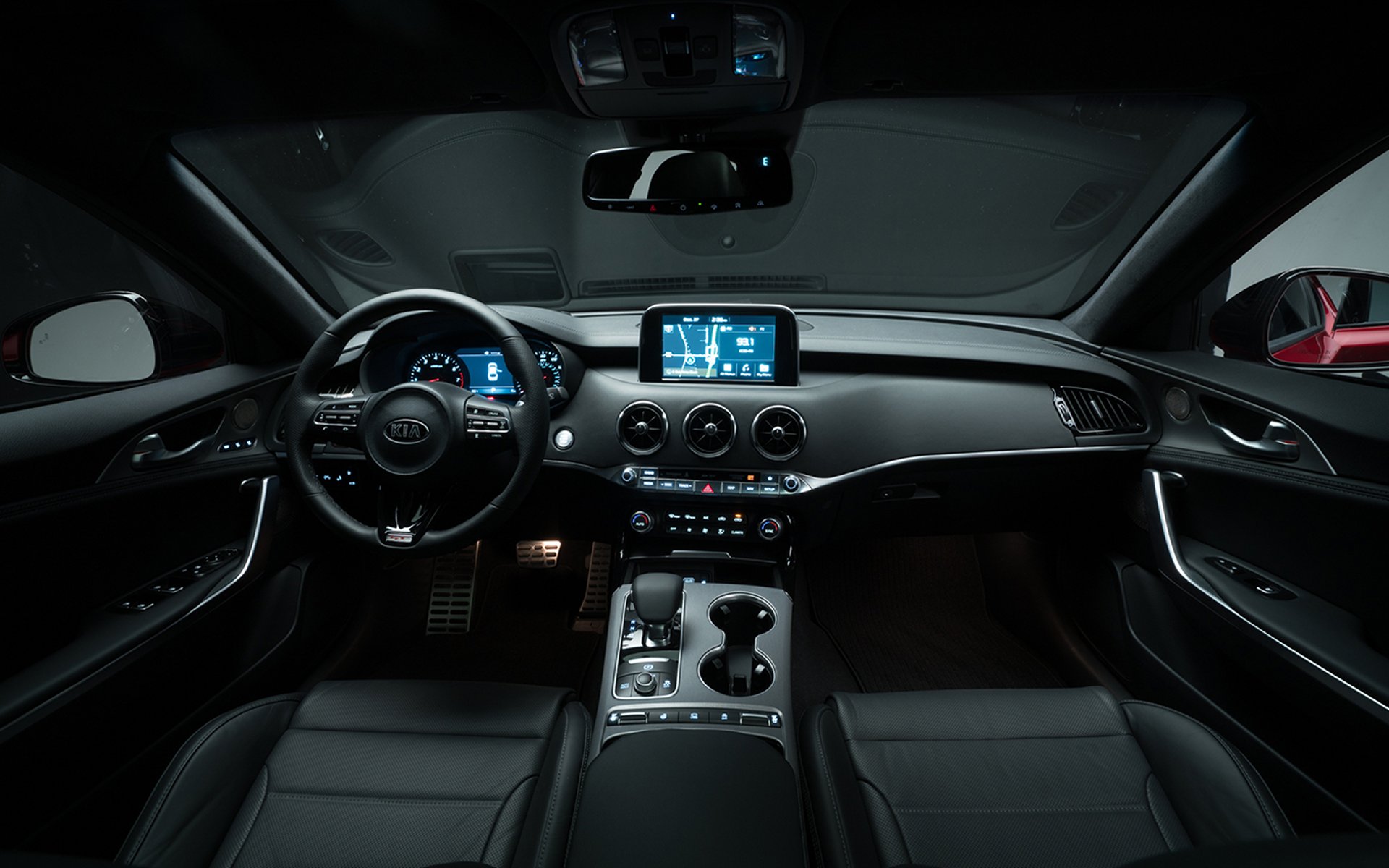 Mechanical
Good handling is key to a great performance sedan, and KIA has delivered just that with the Stinger. The 2018 KIA Stinger has a longer wheelbase than most of the other luxury compact sedans on the market, giving it better stability and a smoother ride. It also comes with both adaptive dampers and a drive mode selector, allowing drivers to switch between prioritising performance, comfort, or a balanced mix of the two. It is also one of the few cars in the segment that comes with a standard rear-wheel drive configuration, giving it extra performance credentials. Buyers who are not performance purists can opt for an all-wheel drive configuration as well, which gives it a more balanced road feel. We encourage you to visit our location near Denver CO serving Greenwood Village Denver Littleton and try the Stinger out yourself!
Powertrain
The KIA Stinger is not a car to be trifled with, as its two excellent powertrains are quick to show. When you order your 2018 KIA Stinger near Denver CO, you have a choice between a four and a six-cylinder engine. Even the four-cylinder offers an impressive 255 horsepower, which exceeds many other entry-level offerings in the segment thanks to its turbocharger. The V-6 ups the ante with a twin-turbo setup for a total of 365 horsepower and a 5-second zero-to-60 time. This power is shunted through a smooth 8-speed automatic transmission to the rear or all four wheels, depending on if you prefer the rear-wheel drive or the all-wheel drive model. While there is no manual option, the transmission can be easily controlled through paddle shifters mounted on the steering wheel.
Safety
KIA has crammed the 2017 Stinger with the latest active safety technology, making sure that you remain safe when you put its impressive power to the test. The long wheelbase and all-wheel drive give it great stability and maneuverability, making it easier to avoid collisions. Assisting with that is the full suite of active safety gear, including adaptive cruise control with forward collision detection and emergency braking and lane departure assistance. The Stinger can even detect if the driver is becoming drowsy or tired, delivering an alert to wake you up and help you regain your focus. The 2018 KIA Stinger has not yet been crash tested, but the high scores received by KIA's other recent sedans suggest that it will do quite well.
With the 2018 Stinger, KIA is poised to upend the compact executive sedan class. As can be seen from this 2018 Stinger review, it offers a combination of performance and luxury wrapped in beautiful interior and exterior styling that makes it hard to beat. That is why we invite you to be one of the first to check out this exciting new vehicle. Visit us at our Denver area dealer - Arapahoe KIA - serving Greenwood Village Denver Littleton, to find out all the details about KIA's brand-new blockbuster.