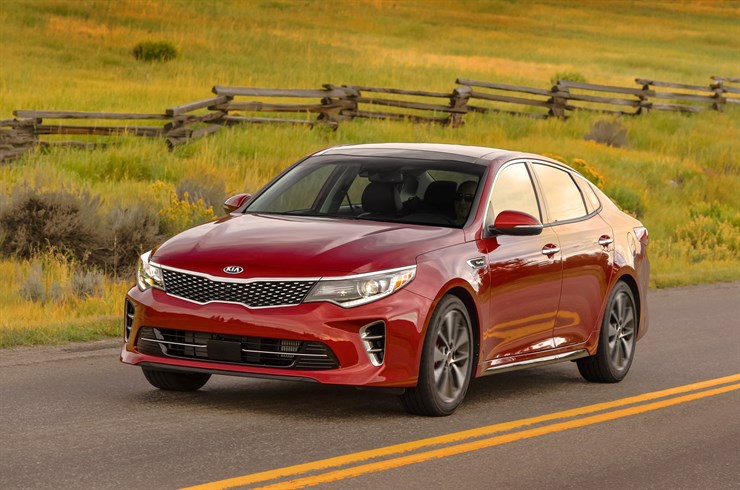 Vehicle Overview
Step inside the award-winning 2018 KIA Optima SX and get a new view on life. With a style and class all its own, this vehicle is designed to help you get where you're going with more luxury than ever before. New car info is available from our dealership on all of our 2018 KIA SX Optmia models. Enjoy the lush interior, upgraded technology and outstanding handling that makes this car exhilarating from the inside-out.
Interior
With five trims to choose from and up to four interior colors, you've never had so much fun selecting a vehicle for your needs. Come to our Denver area dealership, and explore our offerings at Arapahoe KIA to get an outstanding offer on your next vehicle purchase. We want to help you find the right car for your situation, and we are proudly serving Centennial Denver Littleton Colorado residents with some amazing specials on our 2018 KIA Optima SX near Denver CO. All models come standard with a 7-inch touchscreen display, and you can opt for an upgraded 8-inch display when you select the EX or SX version. All of the trim levels also come with a six-speaker system, or you can upgrade to the 10-speaker system on the EX or SX models. The addition of Apple CarPlay and Android Auto makes these vehicles an ideal option for the music-hungry and you can enjoy increased control of your surroundings thanks to the exceptional interior view that lets you see what's happening around your vehicle. With so many upgraded interior features, you have to come down and see this vehicle to believe it.
Exterior
The 2018 KIA Optima SX is designed to provide one incredible exterior that will leave you loving every minute of your driving experience. Built to be aerodynamic, this vehicle really puts you in control. Come down and check out all of our new car info and we will get you set up with a brand new 2018 KIA SX Optmia that is designed to give you exceptional style with a fresh and clean look and amazing amenities. You'll love the power-folding outside mirrors that come standard and the heated outside mirrors on all trim levels. See more clearly with LED daytime running lights, fog lights and rear combination lamps for your enjoyment. You'll also get auto-light control standard on all trims, and you can rest easy on those summer days with solar control glass. The Smart Trunk system on the high-end trims makes your life more convenient, and you'll flip over the Smart Welcome system that senses your arrival. The SX model comes with a sport front grille and a dark metallic coating that will leave you with a lustrous shine. Enjoy the optional chrome exterior accents only available on the SX model and get a better view with power-folding outside mirrors. You'll even be able to enjoy a better view of the world above with the panoramic sunroof with a power sunshade.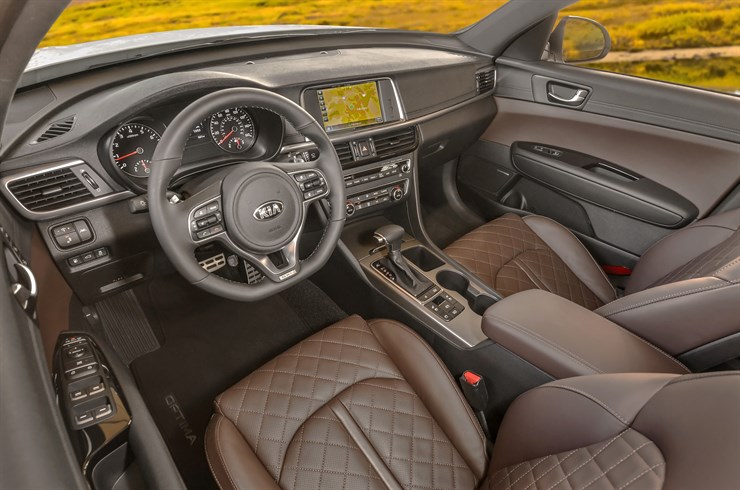 Mechanical/Powertrain
Choose our Denver area dealership and get the choice between three magnificent engines. The vehicle comes offers a 2.4-liter engine with 185 horsepower and 178 pound-feet of torque on the LX and S models. If a turbo is more your style choose from the 1.6-liter turbocharged engine that provides 178 horsepower and 195 pound-feet of torque or go with the 2.0-liter turbocharged engine that gives you an impressive 245 horsepower and 260 pound-feet of torque. At our Arapahoe KIA dealership serving Centennial Denver Littleton Colorado residents, you'll be able to find the 2018 KIA Optima SX near Denver CO that is made for you. Come out and enjoy your freedom with one of our incredible new vehicles. These vehicles all feature four-wheel disc brakes and a unibody construction that will keep you well-protected from other vehicles on the road. Come down and check out all of the amazing mechanical features for yourself.
Safety
The 2018 KIA Optima SX is designed to be safer than ever. The nice thing about our new vehicles is that all of them come with standard safety features so you don't have to choose between safety and saving money. Call our dealership to get new car info and find out how to take home the 2018 KIA SX Optmia today. We will work with you to find the vehicle that fits your needs and help you get the financing to make your dream a reality. With features like blind-spot monitoring, four-wheel disc brakes, a steel unibody and a full complement of airbags, you'll feel safer than ever. Come down and see this vehicle for yourself and get the best safety features available on a new vehicle. Explore features like the tire-pressure monitoring system, hill start assist control and a host of other features that will keep you safe while driving on the road.
Trim Level Information
While the SX trim has some incredible features, you may want to also consider these vehicles that offer tremendous value as well.
Optima EX
Optional 8-inch Touchscreen Display
Optional 10-speaker Harmon Kardon Sound System
Optima LX 1.6T
1.6-liter Turbocharged Engine with 178 horsepower.
7-Speed Dual-Clutch Transmission
Our Denver area dealership has some great deals on our new vehicles. Give our Arapahoe KIA dealership serving Centennial Denver Littleton Colorado a call or stop by to see how you can take home a new 2018 KIA Optima SX near Denver CO today. Don't wait, the best options go quickly.