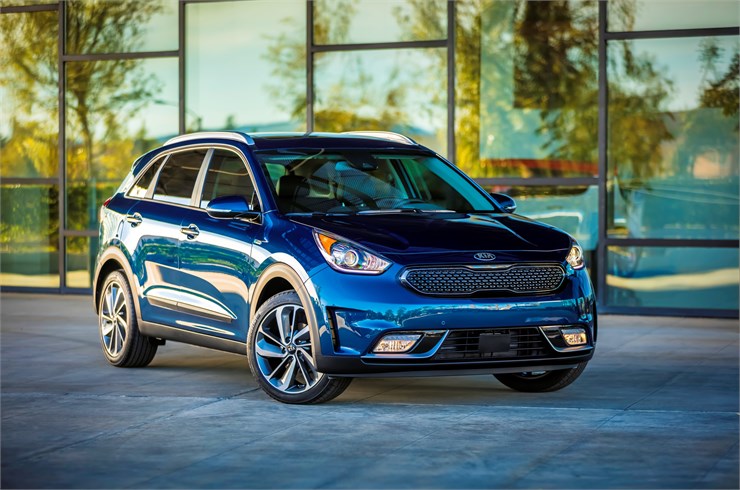 Vehicle Overview
The 2018 KIA Niro Touring edition marks a new era in the hybrid car market. This vehicle is designed from the ground up to be unlike any vehicle in past history. If you want more SUV information, contact our dealership to inquire about the upcoming 2018 KIA Niro to see how you can be one of the first to take this vehicle home with you. This vehicle will save you money on fuel, give you a smooth and quiet ride and become a talking point at all of your events. Plug it in to save money and charge the battery while you sleep and go farther than ever without having to stop at a gas station for fuel. This vehicle offers several luxury features and amenities as well to give you one of the best driving experiences possible.
Interior
The 2018 KIA Niro Touring edition offers a host of amenities to make you feel right at home. If you enjoy music, this vehicle has an outstanding sound system that will leave you in sonic bliss. You'll be able to enjoy every nuance of your favorite performances and feel like you're sitting in the concert hall. With Harmon/Kardon speakers and full 10-speaker system, you'll relax and enjoy your music in incredible detail. Contact us for SUV information and to find out when the 2018 KIA Niro will become available. The interior is fully decked out with an intuitive navigation system, a smart touchscreen and leather seating. You'll also get heated and ventilated seats when you choose this model and you'll love how this vehicle fits your lifestyle and makes your daily commute more enjoyable. From the soft touch interior to the outstanding cabin space, this vehicle has everything you would expect from an SUV without the fuel expense.
Exterior
The Touring edition has an exterior that is designed to impress. You'll love the sleek lines and aerodynamic styling that makes the vehicle both quiet and efficient. Cabin noise is reduced thanks to the smart functionality and practical engineering of the shell. The vehicle offers dynamic performance and exceptional style with small enhancements to let you know you're getting something special. The Eco badge and charge port on the outside add the finishing touches and make this vehicle useful for a variety of situations. Come down and visit our dealership serving Centennial Denver Littleton Colorado residents and get to know our amazing deals only at Arapahoe KIA. We are proud to serve the Denver area and we want you to be one of the first people to own one of these incredible new vehicles. Once you see its slim silouhette in action, you'll know you've picked the right vehicle to purchase your vehicle from. Come down so we can get you set up and tell you more about this vehicle.
Mechanical/Powertrain
The 2018 KIA Niro Touring edition comes with 16-inch alloy wheels to support the incredibly fluid and versatile suspension. You'll love how well this vehicle works to give you an incredible level of sophistication and comfort. When it comes time for you to get a new vehicle, come and talk to us to find out more SUV information about the 2018 KIA Niro. The plug-in functionality means that this vehicle comes complete with an electric and gas-powered engine. When the car is moving, it can actually recharge itself. The battery can be charged by plugging the vehicle into a standard wall outlet, using the regenerative brakes, coasting and driving down a hill. When you hit top speeds, the vehicle is still able to capture some energy from the wheels turning, which allows you to keep going for longer. This vehicle offers a host of options and an engine that is powerful enough to get you to your favorite vacation spot. Come down and check this vehicle out and take a test drive today so you can enjoy the amenities of this incredible vehicle.
Safety
The Touring edition has loads of safety options. When you come down to our dealership serving Centennial Denver Littleton Colorado residents, you can find out about the airbags, structural design and autonomous features that come into play to protect you. Come down to our Arapahoe KIA dealership in the Denver area so we can talk to you about the autonomous braking, smart cruise control system, blind spot monitoring and lane departure warning system that helps keep you safe. You also get traction control, electronic stability control and a reinforced shell that is designed to withstand the force of an impact. No matter what trim level you end up going with, this vehicle is designed to protect you and your passengers. Come down and let us help you decide on the best options for your situation. Our best trim levels will sell out first so make sure you make your appointment now to test drive this vehicle when it comes on the lot.
Trim Level Information
LX Trim
104-horsepower gas engine
43-horsepower electric engine
EX Trim
Blind-spot detection system
Optional autonomous emergency braking
Our Touring models are going quick. If you give us a call or stop by today at our dealership serving Centennial Denver Littleton Colorado residents, we can still help you find a great vehicle. Call our Arapahoe KIA dealership in the Denver area today to schedule your test drive and get a good deal on your next purchase.