View Inventory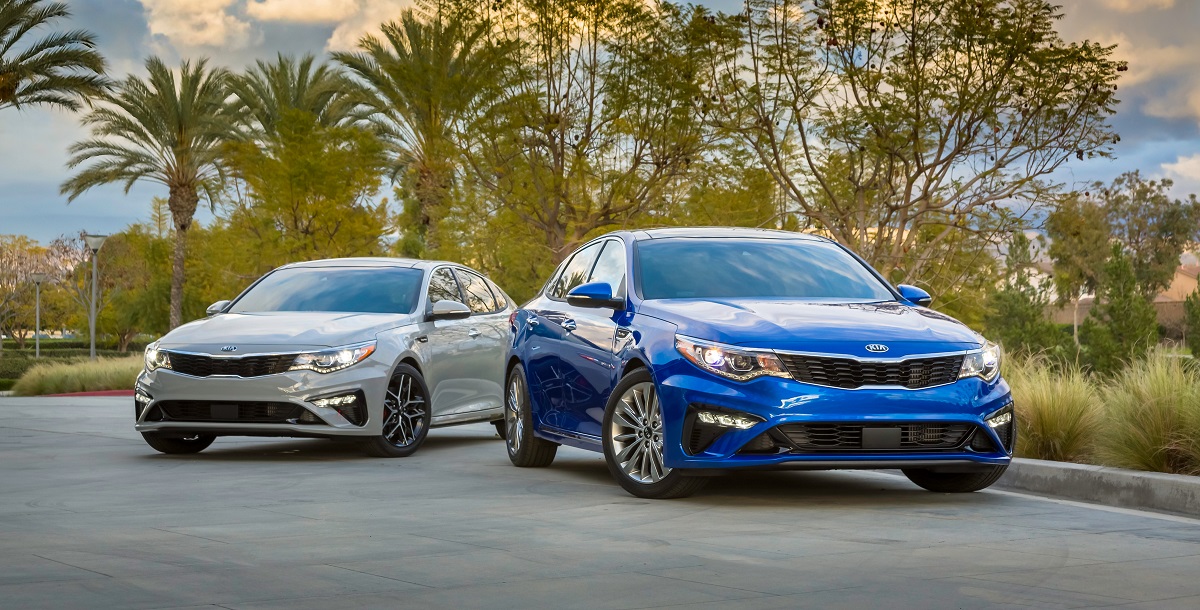 Vehicle Overview
It's onward and upward in 2019, as KIA seeks to upgrade their 2018 Kia Optima into something truly special for a new year. Arapahoe KIA in Centennial is here to give you the rundown on the Optima's bid to outdo itself. Our review of the 2019 Kia Optima vs 2018 Kia Optima will cover all of the important features that make the Optima what it is. With time, though, cars like this are supposed to evolve, always getting better, and we feel that's exactly what the Optima did in 2019. It's serving Centennial Denver Littleton drivers with a big reason to be excited to buy an Optima in 2019.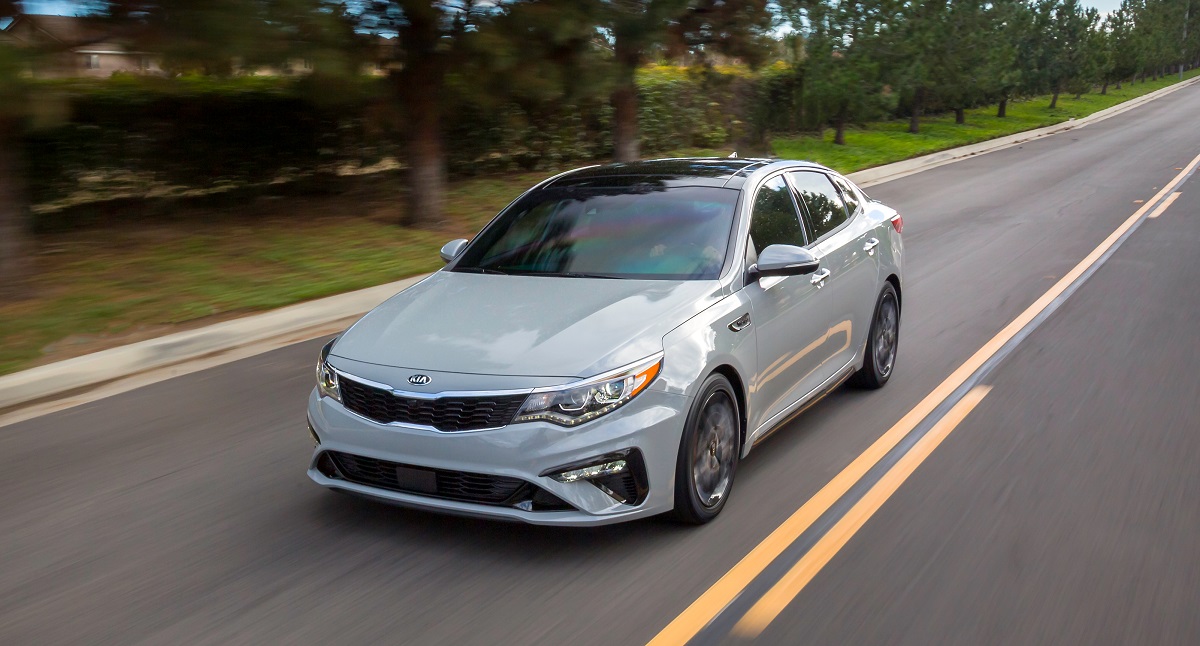 Exterior - 2019 Kia Optima
Kia wanted to really make the 2019 Kia Optima something special, so they implemented a lot of design alterations in 2019. Accents are heavier on the exterior of the 2019 Kia Optima than the 2018 Kia Optima, and they've thrown in attractive fog lighting design to create a bolder appearance. An extremely unique grille rounds out the exterior appearance and makes the 2019 Optima a force to be reckoned with on the road. It's sportier and has just a little more personality - for modern times anyway - than the 2018 Optima. It's serving Centennial Denver Littleton drivers with a wealth of new exterior features and personality. If you were a fan of the KIA Stinger, you're going to love the front fascia that closely resembles that of the Stinger.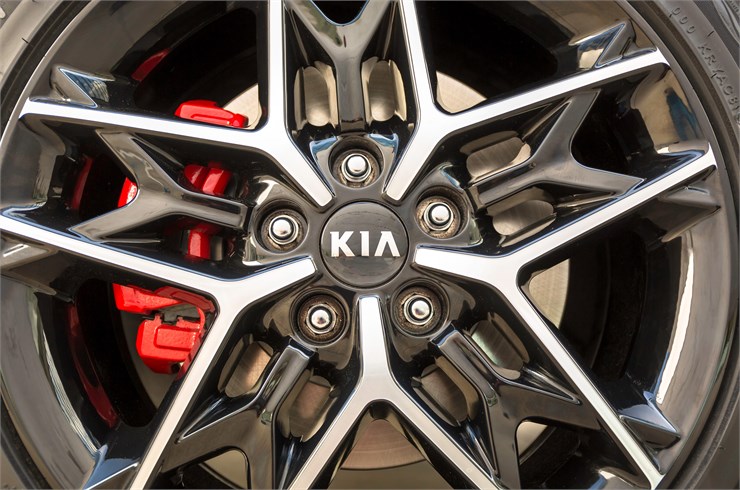 This is because KIA's goal with the 2019 Optima was to bring it into a more modern era and make it sleeker and more fun to drive. That front fascia is really something to be excited about, and you'll probably want to look up some pics of it as well.
Interior - 2019 Kia Optima in Centennial
Connectivity is a huge part of the 2019 Optima's upgrades. UVO play comes standard on the LX and lets you use voice commands to control your smartphone, something that's revolutionary in itself. On the S and EX, you'll get UVO link, a system that lets you do on-demand diagnostics, gives you remote start, and still keeps all the functions of UVO Play, too (Apple CarPlay and Android Auto anyone?).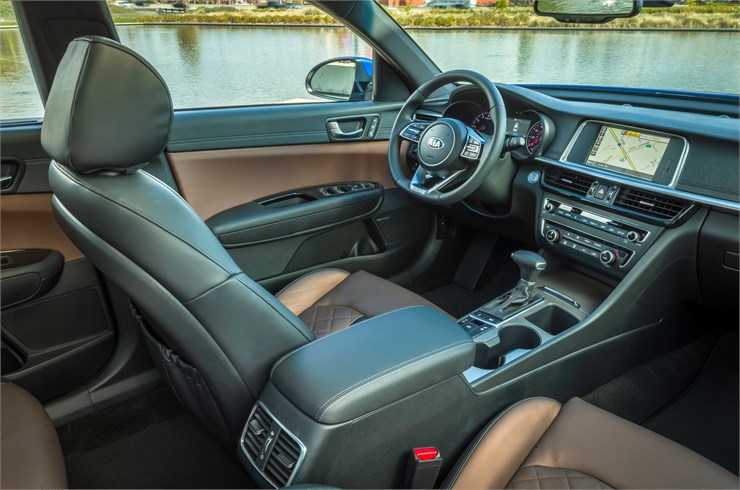 Higher trims get even more perks. Add in the two-tone interiors of the SX and SX Limited, and you've got some exciting possibilities for the look and feel of your new, sportier Optima. An 8-inch touchscreen will serve as your command center on the 2019 Optima, so get ready for a big upgrade there and a ton of fun stuff in terms of connectivity and entertainment. KIA has made it entirely easier to use your smartphone in conjunction with your Optima, so there's going to be a lot of happy customers when they see the interior.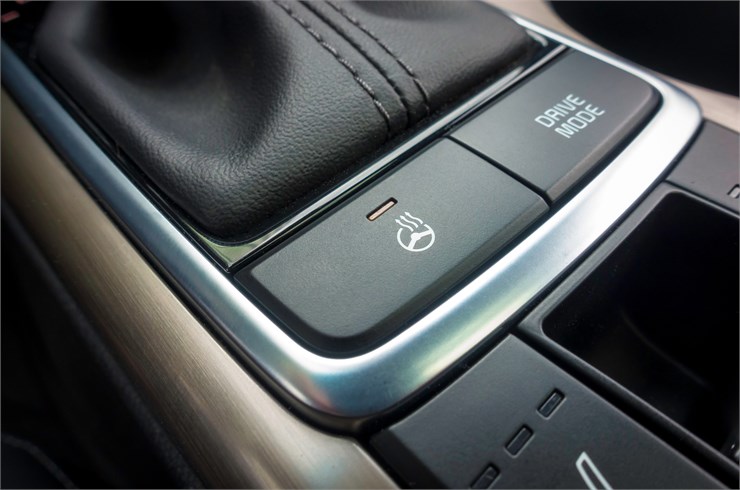 Mechanical - Kia Optima specs in Centennial CO
In the powertrain department, the 2019 Kia Optima vs 2018 Kia Optima engine menu stays the same, with three great choices to choose from. There's a 2.4-liter DOHC engine, turbocharged 1.6-liter DOHC, and a turbocharged 2.0-liter DOHC engine to choose from, and all of them give you varying amounts of horsepower and torque. The highest engine comes with the SX and SX Limited, giving you a bold 2.0-liter DOHC engine good for 245 horsepower. Additionally, the SX gives you actual driving modes to choose from, for a lot more fun behind the wheel. Araphahoe Kia in Centennial loved the old engine lineup, so we're satisfied that Kia kept the old 2018 Kia Optima powertrains intact.
Safety Features - 2019 KIA Optima dealer
Safety is one area that we here at Arapahoe Kia in Centennial feel can always be improved, whether it's with a better design or adding on more advanced safety features. The 2019 Optima will be serving Centennial Denver Littleton drivers with a whole new lineup of safety features, including Forward Collision-Avoidance Assist, Forward Collision Warning System, and lane departure warning. Each of these is a brand new addition to the standard safety features, making the 2019 Optima safer and more comfortable to drive than ever before. Preventative safety features are always a welcome addition to any model of Kia, as it's always better to prevent an accident than to survive one. Thankfully KIA stepped up to the plate and decided to throw in the whole kitchen sink of safety features in 2019.
Test Drive the 2019 Kia Optima
We cordially invite you to visit us at our dealership and test drive the brand new 2019 Optima by KIA. We feel like they've done an excellent job making the KIA sportier, more connected, and safer than ever before, and we hope that you as a customer will visit us and appreciate these neat changes with us. Our friendly sales staff makes customer service a top priority, so when you visit us for a test drive, we're here for you all the way to give you a guided tour of all features, take you out on the road, and answer all of your questions. To put it simply, the 2019 Optima is just more fun to drive than the 2018 edition, even though they both have a lot to offer. Call us today to schedule a test drive and see just why so many people think the new Optima offers such a fun and safe driving experience. We look forward to serving you and sending you home in a new Optima.