2018 Niro Plug-In Hybrid Review. Despite it's humble entry into the US market, Kia has become one of the strongest automakers in North America with a penchant for producing vehicles in tune with the pulse of the modern driver. The 2018 Kia Niro Plug-In Hybrid is no exception. The Niro plug-in hybrid offers drivers a bevy of smart technology with hatchback styling that promises utility and more than ample cargo space. All this in an attractive package that manages to keep the fun in functional. The following Niro Plug-In hybrid review comes courtesy of Arapahoe Kia, serving Greenwood Village Littleton Denver. If you are searching for info on the upcoming 2018 Kia Niro Plug-In Hybrid near Denver CO, look no further.
The rear seat and cargo area are equally smart, with versatile fold-flat rear seats. When driving the 2018 KIA NIRO Plug-In Hybrid near Denver CO, you are sure to find plenty of charging stations, ensuring that you are never too far away from a recharge. However, should life throw you a curveball, there is a dedicated hidden storage bin for securing the included 120v charging cable, which can get you out of a bad situation if needed.
The exterior is typical Kia, with very modern styling and functionally chic technology incorporated at every corner. LED lighting adorns the headlight and tail light clusters. The two-tone alloy wheels add a stylish flair to the already sleek crossover styling. Alloy wheels come in both 16" and 19" variety and depend on the trim options selected. However, both versions are statement pieces sure to turn heads. These design cues make the Niro Plug-In fit in both at the opera house valet as well as the school drop off zone.
The Kia Niro Plug-in Hybrid utilizes an industry standard charging port capable of level 2 and level 1 charging. The charge port is integrated in the front driver's side fender as typical of most plug in hybrid vehicles. The Niro flexes an aggressive stance and signature grille that not only look amazing, but also give the Niro the perfect balance of off-road capability and sport performance agility, a must for negotiating the mountainous roads and trails near Denver CO. The slightly elevated ride height also make for easy loading of cargo and passengers.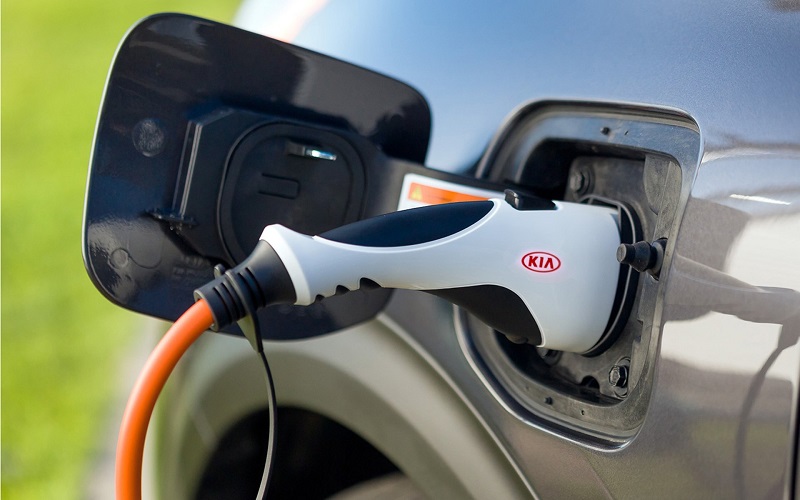 The 2018 Kia Niro Plug-In Hybrid features the same advanced drivetrain as the standard Niro, complete with 6-speed dual clutch automatic transmission. The Hybrid and Plug-In Hybrid models both feature three selectable drive modes to suit you. There is Eco Mode, which optimizes efficiency, Sport Mode for a more exhilarating drive, and EV mode, which allows for full electric operation. In both versions, the 1.6 liter inline-4 engine syncs harmoniously with the electric motor producing a combine 139 hp rating. When driving near Denver CO, the powerful electric motor can be truly appreciated. The instant torque provided by the electric motor make hill starts and uphill lane changes a breeze. Arapahoe Kia, serving Greenwood Village Littleton Denver, can help you arrange a test drive to show you just how much fun this electric hybrid can be.
In addition to meeting all of your performance needs, the 2018 Kia Niro Plug-In Hybrid will ensure that you arrive at your destination in one piece. The Niro employs both active and passive safety features to keep you and your precious cargo safe. The Iso-Structure construction utilizes high-strength steel and advanced design and manufacturing processes to solidify your ride as well as your peace of mind. Active control systems like ABS brakes and active stability control(VSM) enhance driver's ability to maintain control of the vehicle in more harsh driving situations. When collisions cannot be avoided, the Niro offers a 7-airbag smart system with protection for all passengers. It includes knee airbags for the driver and full length side-curtain airbags. There are also front and rear crumple zones, crucial for dissipating energy in a collision, and steel beam reinforced doors for increased side impact protection.
Hopefully, this Niro Plug-in Hybrid review will prove valuable in your search for the 2018 KIA NIRO Plug-In Hybrid near Denver CO. Arapahoe Kia, serving Greenwood Village Littleton Denver, has a full catalog of all the features and options available in the Niro. If you are in the area near Denver CO, stop by and let the friendly and professional staff at Arapahoe Kia help you find the Niro of your dreams.